Liquid Music
Ashwini Ramaswamy: Let the Crows Come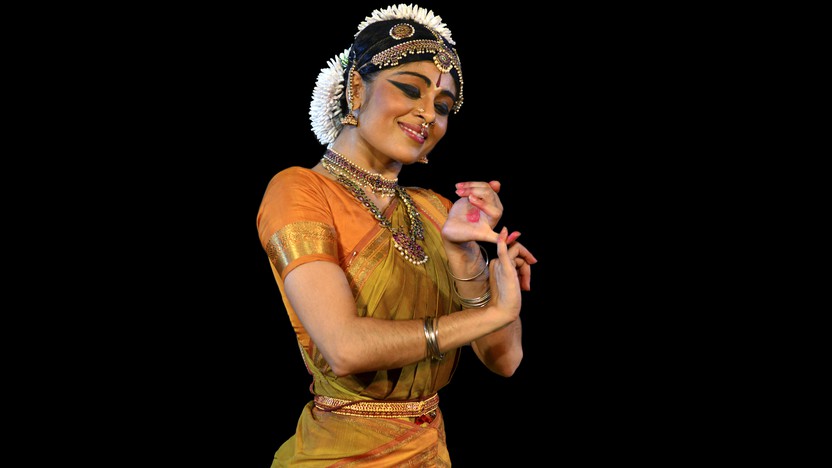 About This Program
Approximate length 2:00
Minneapolis-based Bharatanatyam dancer/choreographer Ashwini Ramaswamy (Ragamala Dance Company) invites you into the artistic process behind her multidisciplinary original work Let the Crows Come. Evoking mythography and ancestry, Let the Crows Come depicts crows as messengers for the living and guides for the departed. In a series of three dance solos (by Ramaswamy, Alanna Morris-Van Tassel, and Berit Ahlgren), with music by three composers (Jace Clayton, Prema Ramamurthy, and Brent Arnold), this work deconstructs, extrapolates, and retrogrades Bharatanatyam (south Indian classical dance) and Carnatic (south Indian classical music) to explore how memory and homeland channel both guidance and dislocation. Using these Indian forms as their point of inspiration, the artists explore deconstruction, iteration, and crossing cultures. Let the Crows Come layers Ramaswamy's visceral interpretation of ancestry, ritual, and tradition with a genre-defying evolution of movement and music across cultural and corporeal boundaries. Presented at the newly-renovated Parkway Theater in South Minneapolis, this work-in-progress event includes movement sketches, live music by cellist/composer Brent Arnold, video footage from Ramaswamy's Space Residency at The Baryshnikov Arts Center, and a conversation with the artists moderated by TU Dance Co-Artistic Director Toni Pierce-Sands.
"'Magic realism' is a technique often used in literature but Ashwini imports the concept into the dance world." – Star Tribune
Tickets: Pay as you wish in support of this project
This performance is part of our Tapestry19 Festival, click here for more information.
Let the Crows Come is made possible by the New England Foundation for the Arts' National Dance Project, with lead funding from the Doris Duke Charitable Foundation and The Andrew W. Mellon Foundation.
Liquid Music
This event is part of the SPCO's boundary-defying Liquid Music concert series.
Learn more and buy this event as part of a full Liquid Music subscription package.