Brahms and Prokofiev
Toggle open/close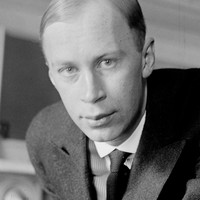 Sergei Prokofiev
Quintet
Prokofiev left Russia in the wake of the 1917 October Revolution, establishing himself in the West with concert tours around the United States and Europe. He lived briefly in New York and Germany, and then settled in Paris in 1923. In that epicenter of the musical avant-garde, Prokofiev made a splash with his colorful and spiky scores, especially his ballets.
In 1924, a choreographer and fellow Russian expatriate, Boris Romanov, commissioned a new ballet from Prokofiev for a touring troupe based in Germany. Romanov's small company traveled with only a handful of musicians, so Prokofiev limited himself to a scoring of oboe, clarinet, violin, viola and double bass. From the beginning, his plan was to create two parallel versions of the music: one a ballet score, the other a concert work. The ballet debuted in 1925 under the title "Trapeze," and a truncated version of the music premiered in 1927 as the Quintet, Opus 39.
Working in Paris in the mid-1920s, Prokofiev felt pressure to keep up with the modernist drive toward ever increasing complexity in music. The Quintet incorporated some of his most pungent harmonies, and yet his knack for tuneful melodic lines and well-contoured phrases could not be repressed, even though it drew fire from contemporary tastemakers. The opening movement presents an orderly, angular theme, and then elaborates it through two linked variations. The bass takes a turn spelling out a thorny melody to begin the Andante energico second movement, but again the material finds its own form of lyricism.
The third movement is a pulsing, scherzo-like escapade. The fourth movement, marked Adagio pesante ("slow and heavy"), limits all melodic activity to evenly spaced eighth-notes, with support from faster viola arpeggios and irregular bass rhythms. Within the churning layers of the fifth movement, melodic echoes and breaks for pizzicato bass solos preserve the transparency. The Andantino that concludes the Quintet brings out more of the same: throbbing rhythms, fluid melodies and counter-lines, and a polished refinement that keeps this music easy on the ears, despite the liberal dashes of dissonance.
Aaron Grad ©2014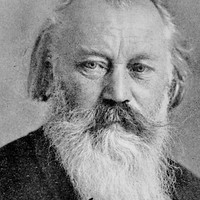 Johannes Brahms
Sextet No. 1