Brahms and Prokofiev
Toggle open/close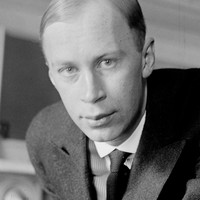 Sergei Prokofiev
Quintet
Sergei Prokofiev left Russia in the wake of the 1917 October Revolution, establishing himself in the West with concert tours around the United States and Europe. He lived briefly in New York and Germany, and then he settled in Paris in 1923. In that epicenter of the musical avant-garde, Prokofiev made a splash with his colorful and incisive scores, especially his ballets.
In 1924, a choreographer and fellow Russian expatriate, Boris Romanov, commissioned a new ballet from Prokofiev for a touring troupe based in Germany. Romanov's small company only traveled with a handful of musicians, so Prokofiev limited himself to a scoring of oboe, clarinet, violin, viola and double bass. From the beginning, his plan was to create two parallel versions of the music: one a ballet score, the other a concert work. The ballet debuted in 1925 under the title Trapèze, and a truncated version of the music premiered in 1927 as the Quintet, Op. 39.
Working in Paris in the mid-1920s, Prokofiev felt pressure to keep up with the increasing adventurousness of contemporary music. The Quintet incorporated some of his most experimental sonorities to date, and yet his talent for tuneful melodies and well-contoured phrases still shaped the music. The opening movement presents an orderly theme and then elaborates it through two linked variations. To begin the Andante energico second movement, the bass takes a turn spelling out a thorny melody, and again the material finds its own form of lyricism.
The third movement is a pulsing, scherzo-like escapade. The fourth movement, marked Adagio pesante ("slow and heavy"), limits all melodic activity to evenly spaced eighth-notes, with support from faster viola arpeggios and irregular bass rhythms. Within the churning layers of the fifth movement, melodic echoes and breaks for pizzicato bass solos preserve the transparency. The Andantino that concludes the Quintet brings out more of the same: throbbing rhythms, fluid melodic lines, and a polished refinement that keeps this music easy on the ears, even with the liberal dashes of dissonance.
Aaron Grad ©2021
Toggle open/close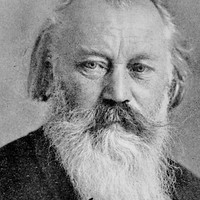 Johannes Brahms
Sextet No. 1
The first work of chamber music that Johannes Brahms issued publicly was his Piano Trio No. 1, composed in 1853 after his pivotal introduction to Robert and Clara Schumann. The following year, after Robert's leap into the Rhine River and confinement in an insane asylum, the 21-year-old Brahms moved to Düsseldorf to help manage the Schumann household and care for the children while Clara supported the family playing concert tours. In the two years that Brahms spent as the de facto head of the Schumann household, he developed a deep (and not entirely platonic) affection for Clara, 14 years his senior.
It took Brahms a few years to stabilize after he left the Schumann orbit, musically and personally, but he found his footing by concentrating on chamber music between 1860 and 1865, when he created a series of seven groundbreaking scores. The earliest of the series employed an uncommon ensemble, forming a sextet with pairs of violins, violas and cellos. There were very few examples of earlier string sextets (just a handful from the previous century by the cellist-composer Luigi Boccherini, and a more recent effort from Louis Spohr), but this lack of tradition probably appealed to Brahms, who shied away from legacy-laden genres like string quartets and symphonies until later in life. The Sextet in B-flat debuted in Hanover on October 20, 1860, and it clearly pleased the composer since he returned to the same format for a second sextet in 1865.
In the opening movement of the First String Sextet, the ensemble makes the most of the diverse textures that can be achieved with six instruments, culminating in an all-plucked coda. In the middle movements, Brahms updated two older traditions — first a theme and variations, and then a scherzo — demonstrating how well he had integrated the lessons of Joseph Haydn, Wolfgang Amadeus Mozart and Ludwig van Beethoven. The Rondo finale maintains that Classical connection, with light-hearted music in the spirit of a Serenade. The Sextet may have been a rarity when Brahms approached it, but his two contributions proved so influential that they birthed a new chamber music genre, with major additions following from Antonín Dvořák, Pyotr Tchaikovsky and Arnold Schoenberg in the decades to come.
Aaron Grad ©2021
About This Program
Approximate length 1:00
Inspired by his ballet Trapèze which was commissioned by a travelling troupe in 1924, Sergei Prokofiev's Quintet for oboe, clarinet, violin, viola and double bass opens the program. A staccato rhythmic pulse propels this work, running as an undercurrent beneath the playful urgency of chromatic melodies passed between the winds and strings. Johannes Brahms' first string sextet follows with the warm, rich harmonies emblematic of the romantic period.
All audience members are required to present proof of full COVID-19 vaccination or a negative COVID-19 test within 72 hours prior to attending this event. Masks are required regardless of vaccination status. More Information
Concerts are currently limited to 50% capacity to allow for distancing. Tickets are available by price scale, and specific seats will be assigned and delivered a couple of weeks prior to each concert — including Print At Home tickets. Please email us at tickets@spcomail.org if you have any seating preferences or accessibility needs. Seating and price scale charts for the Ordway Concert Hall can be found at thespco.org/venues.