Dvořák's Serenade for Winds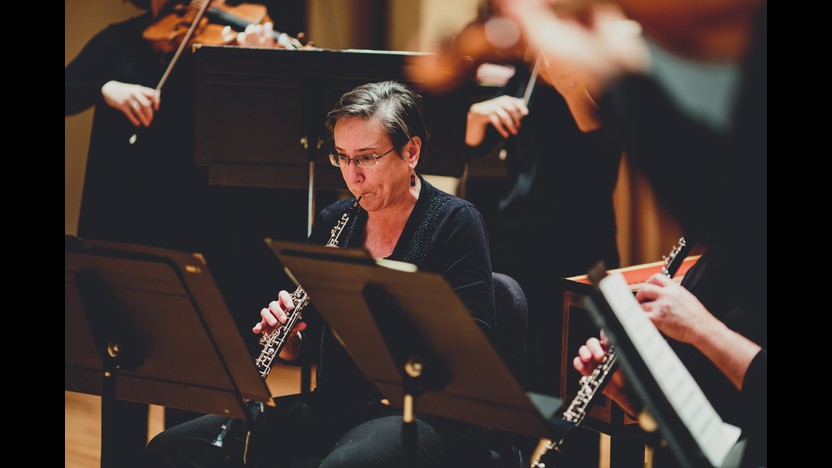 Toggle open/close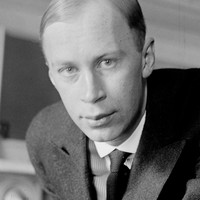 Sergei Prokofiev
Quintet for Oboe, Clarinet, Violin, Viola and Double Bass
Prokofiev left Russia in the wake of the 1917 October Revolution, establishing himself in the West with concert tours around the United States and Europe. He lived briefly in New York and Germany, and then settled in Paris in 1923. In that epicenter of the musical avant-garde, Prokofiev made a splash with his colorful and spiky scores, especially his ballets.
In 1924, a choreographer and fellow Russian expatriate, Boris Romanov, commissioned a new ballet from Prokofiev for a touring troupe based in Germany. Romanov's small company traveled with only a handful of musicians, so Prokofiev limited himself to a scoring of oboe, clarinet, violin, viola and double bass. From the beginning, his plan was to create two parallel versions of the music: one a ballet score, the other a concert work. The ballet debuted in 1925 under the title "Trapeze," and a truncated version of the music premiered in 1927 as the Quintet, Opus 39.
Working in Paris in the mid-1920s, Prokofiev felt pressure to keep up with the modernist drive toward ever increasing complexity in music. The Quintet incorporated some of his most pungent harmonies, and yet his knack for tuneful melodic lines and well-contoured phrases could not be repressed, even though it drew fire from contemporary tastemakers. The opening movement presents an orderly, angular theme, and then elaborates it through two linked variations. The bass takes a turn spelling out a thorny melody to begin the Andante energico second movement, but again the material finds its own form of lyricism.
The third movement is a pulsing, scherzo-like escapade. The fourth movement, marked Adagio pesante ("slow and heavy"), limits all melodic activity to evenly spaced eighth-notes, with support from faster viola arpeggios and irregular bass rhythms. Within the churning layers of the fifth movement, melodic echoes and breaks for pizzicato bass solos preserve the transparency. The Andantino that concludes the Quintet brings out more of the same: throbbing rhythms, fluid melodies and counter-lines, and a polished refinement that keeps this music easy on the ears, despite the liberal dashes of dissonance.
Aaron Grad ©2014
Toggle open/close
Joachim Raff
Sinfonietta for Double Wind Quintet
History has not been kind to Joachim Raff, who was a very popular composer in his day. After support in his journeyman years from Mendelssohn and Liszt, Raff established himself in the German spa town of Wiesbaden, where he taught music lessons and released new compositions at a rapid clip, including symphonies and salon pieces that enjoyed many performances around Europe. Raff's abundance of music—a list of 216 published opuses created in a life of just 60 years—may have cost him in the end, earning him a reputation as a creator of trifles.
Raff was in truth a highly skilled composer and an original thinker, as demonstrated by the Sinfonietta from 1873. He coined the title (which had no prior record in musical parlance) as a way to indicate a symphony of smaller proportions, in this case a work for ten-piece wind band. Raff's term caught on in the twentieth century, with notable examples from Prokofiev, Britten, and Poulenc.
Raff's scoring for pairs of flutes, oboes, clarinets, bassoons and horns recalls the earlier tradition of Harmoniemusik, a genre of music for wind ensemble. In the late-eighteenth and early-nineteenth centuries, the most posh aristocrats were likely to maintain a wind band, or Harmonie, to entertain at outdoor parties, hunts and other festivities. (Mozart wrote several of his Serenades for such groups.) Raff's Sinfonietta, in line with this history, is light and breezy in tone, yet its structures still fulfill symphonic norms, starting with a sturdy Allegro. The Allegro molto second movement, propelled by a galloping gait, serves as the work's scherzo. The Larghetto luxuriates in two main themes, with the oboe introducing the particularly lovely secondary melody amid the soft chatter of the flutes. The Vivace finale uses bouncing staccato articulations and fluid slurs to close this trailblazing Sinfonietta on a colorful note.
Aaron Grad ©2014
Toggle open/close
Czech composer Antonín Dvořák's Serenade for Winds has remained popular since its 1878 premiere, which was conducted by the composer himself in Prague. Dvořák dedicated the piece to Louis Ehlert, a music critic whose praise for Dvořák's earlier works had made the composer famous throughout Germany. Like many of Dvořák's compositions, the Serenade blends sonic elements of classical music with Eastern European folk traditions.
The Serenade opens with a movement that hearkens back to the soundscapes of long-ago court performances from the Rococo period; the sounds of the aristocracy are merged with a song of the common people. This opening theme is particularly important, because it will return near the end of the final movement, thereby making the Serenade a cyclical work. The second movement begins with a wistful, charming minuet. This is followed by a lively trio with syncopated Czech dance rhythms.
Long, sensuous melodies in the slower third movement convey a sense of melancholic nostalgia. The expressive oboe and clarinet are accompanied by subtle syncopation in the horn section and an active bass line. The Serenade ends with a driving, witty Finale reminiscent of the village band. High-level performance on wind instruments was a centuries-long Bohemian tradition, and Dvořák's Serenade pays tribute to that rich heritage.
The year after the Serenade's premiere, Johannes Brahms sent a letter to Joseph Joachim praising the work. Brahms wrote: "A more lovely, refreshing impression of real, rich and charming creative talent you can't easily have…I think it must be a pleasure for the wind players!"
Paula Maust ©2022
About This Program
Approximate length 2:00
When Prokofiev wrote this program's opening quintet, he was working in Paris for a ballet company with limited musicians; oboe, clarinet, violin, viola and double bass were the only instruments available. In addition to completing a ballet score for these instruments, Prokofiev used this uncommon orchestration for his raucous and charming Quintet. Following Prokofiev's work, the alluring sonorities of the SPCO wind section take center stage in works by Raff and Dvořák. Dvořák's Serenade for Winds closes the program, showcasing the SPCO winds at their best, full of mirth one moment and mystery the next.