Happy Hour Concert: Beethoven and Haydn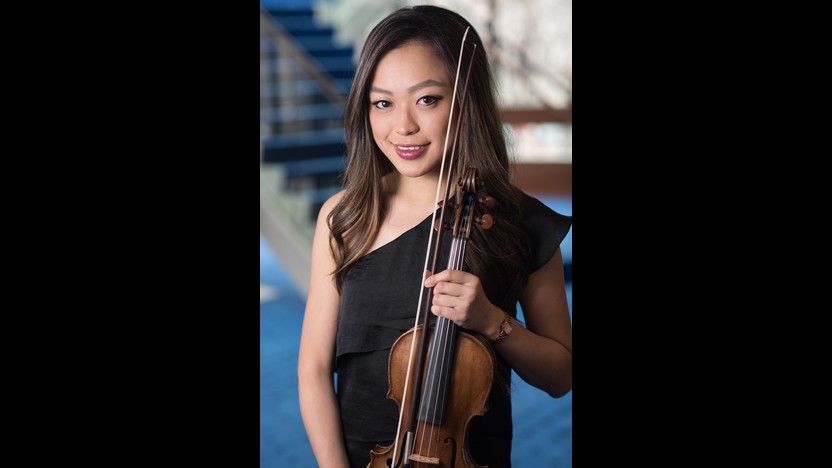 Toggle open/close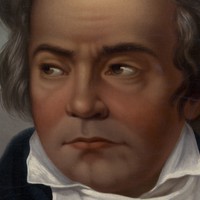 Watch Video
Ludwig van Beethoven
Romance No. 1 for Violin
Not much is known about why Beethoven composed two independent slow movements for violin and orchestra, each labeled Romance. That term that originated with a Spanish style of ballad singing, but composers began using the Romance heading in instrumental music around 1760 as a way to indicate a simple, tuneful type of slow movement. The Romance No. 2 in F Major, published in 1805 as Opus 50, actually came first, and it may have been attached to a stalled Violin Concerto from the late 1790s. The Romance No. 1 in G Major followed in 1801 or 1802, but it was published sooner, in 1803, giving it the lower opus number and first place in the sequence. The most distinctive passages of this Romance are those in which the violin provides its own accompaniment to the songlike themes, starting with the very first measures. The rondo structure makes space for music of contrasting attitudes, including a minor-key episode full of crisp, staccato articulations.
— © Aaron Grad
Aaron Grad ©2018
Toggle open/close
Jean-Féry Rebel
The Elements
Jean-Féry Rebel, the son of a musician in the court of Louis XIV, had the privilege of studying violin and composition with Jean-Baptiste Lully, the king's favorite composer. Rebel was 71 and retired from his long career composing and performing dance music when he wrote his final and most consequential work, The Elements. The bulk of this "symphonie nouvelle" consisted of orchestral dances, infusing the French ballet style mastered by Lully with aspects of Italian sinfonias (i.e. opera overtures, which evolved into symphonies as we know them).
Musical details of The Elements correspond to those Classical "elements" that comprise the natural world: the low strings represent Earth, the bright tone of piccolo evokes Air, violins correspond to Fire, and the mellow flutes voice the sound of Water. This highly colorful and varied suite also offers images of nightingales, hunters giving chase, lively dances in assorted styles and a song for Love.
For all the novelty within the suite, the highlight of The Elements is surely the very first chord of its jaw-dropping introduction, titled Chaos. Rebel felt compelled to explain his thinking in a forward to the published score: "The introduction to this work is Chaos itself; that confusion which reigned among the Elements before the moment when, subject to immutable laws, they assumed their prescribed places within the natural order. This initial idea led me somewhat further. I have dared to link the idea of the confusion of the Elements with that of confusion in Harmony. I have risked opening with all the notes sounding together, or rather, all the notes in an octave played as a single sound."
Aaron Grad ©2018
Toggle open/close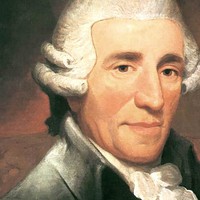 Watch Video
Franz Joseph Haydn
Symphony No. 95 in C Minor
After Prince Nikolaus Esterházy died in 1790 and his successor cut back on music, the family's longtime Kapellmeister, Joseph Haydn, had new freedom to capitalize on his international fame. He accepted a lucrative invitation from a German violinist and impresario working in England, Johann Peter Salomon, who soon accompanied Haydn to London. Haydn wrote, "My arrival caused a great sensation … I went the rounds of all the newspapers for three successive days. Everyone wants to know me." Besides a busy schedule of socializing and teaching, Haydn prepared music for the upcoming spring concert season. Salomon's orchestra of 40 or so musicians offered mixed programs of symphonies, concertos, arias and chamber music, appearing each Monday in London's Hanover Square Rooms. Haydn ended up presenting six new symphonies in London, and six more during a follow-up visit in 1794–95.
The Symphony No. 95 was one of the first of Haydn's "London" symphonies to reach the public, and it followed a different template than the works that followed. It was the only example that Haydn set in a minor key, and it was also the only one to forgo a slow introduction, instead launching directly into a stark, five-note motive declared in naked octaves. The secondary theme provides a sunny contrast, especially when it returns at the end of the movement in C major, brightened by passages from a solo violin (music designed to feature Salomon, who played as the concertmaster).
The Andante cantabile slow movement takes the form of a theme and variations. After a variation featuring a solo cello, it takes a brief detour from its comfortable E-flat major tonality into the dark territory of E-flat minor.
The Menuet strikes up the severe key of C minor again, but a chuckling "crushed-note" figure intervenes from time to time to lighten the mood. The contrasting trio returns to C major and once again showcases a solo cello, supported by plucked chords. The lively finale affirms the symphony's gravitation toward C major, and contrapuntal passages recall the legendary fugal finale of Mozart's last symphony, No. 41 in C Major ("Jupiter"), composed several years before Haydn left for London.
Aaron Grad ©2018
About This Program
Approximate length 2:00
Join us for a special pre-concert happy hour with food trucks and drink specials, then bring your drinks into the Ordway Concert Hall for a one-hour performance. Jean-Féry Rebel's The Elements offers a French Baroque take on the creation of the universe, beginning with a shockingly modern and dissonant introductory movement: Chaos. SPCO violinist Eunice Kim opens the program as soloist on Beethoven's Romance No. 1, and the program closes with Haydn's sole London symphony in a minor key.