Happy Hour Concert: Kuusisto, Bach and Prokofiev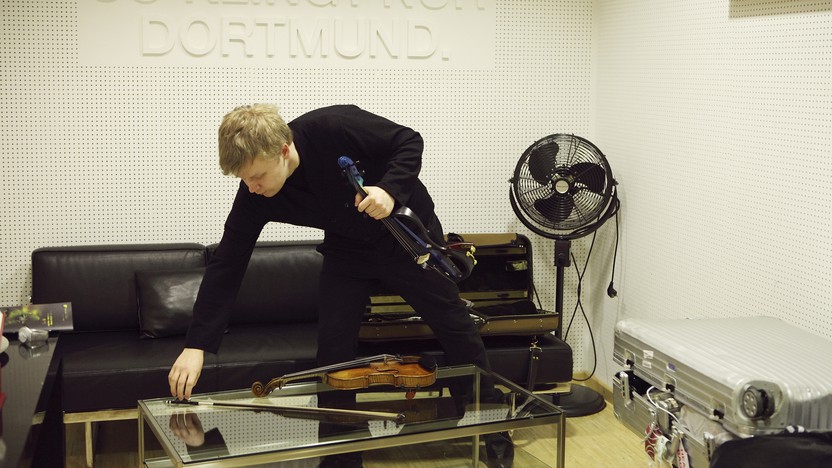 Toggle open/close
When Johann Sebastian Bach worked as a church organist in Weimar from 1708 to 1717, he had few opportunities to write or perform secular music with ensembles, even as his library overflowed with inspiration from abroad. The innovative sonatas and concertos being produced by Italian composers were just starting to arrive in trading hubs like Amsterdam and Utrecht, and the well-traveled members of Weimar's royal court eagerly stocked up on the latest published scores and bootleg copies to expand their court musicians' repertoire. Those foreign sources had an immediate impact on Bach's style, even if his main outlet at the time was transcribing larger works for harpsichord. 
Bach took a new job in 1717 as the music director for a young prince in Cöthen, and for the next six years his primary duty was to provide the court's secular entertainment. With the support of a music-loving patron, and with top-notch professional musicians at his disposal, Bach finally put those Italian influences to use and produced many of his surviving concertos and sonatas, along with many more works that have disappeared. 
When that prince married a woman uninterested in music, Bach began scouting other job opportunities. Back when he had traveled to Berlin in 1718 to buy a new harpsichord, he had met and performed for Margrave Christian Ludwig, Duke of Brandenburg; renewing that connection three years later, Bach sent what amounted to an unsolicited job application, in the form of six concerti grossi. To this day, those works are known as the  Brandenburg  Concertos, even though their noble namesake never so much as replied. 
Bach's scores elaborated on the template developed a generation earlier by the Italian composer Archangelo Corelli, who pioneered "grand concertos" for groups of soloists (usually two violins and cello) working within an accompanying ensemble of strings and basso continuo. Each of Bach's examples tests a different configuration of soloists, including the radical example of the third  Brandenburg  concerto, in which every instrumental part functions as an independent solo voice apart from the shared basso continuo foundation. 
The * Brandenburg* Concerto No. 3 includes three violins, three violas and three cellos; the first movement sends a three-note motive cascading through all the voices. (The spiritual significance of the number three in Christian theology was surely not lost on Bach, a devout Lutheran.) Instead of a full slow movement, Bach only notated two linking chords, leaving the performers the option of inserting an improvised cadenza. The concerto closes with a barreling Allegro finale, its tempo and character matching the reeling gigues that conclude most of Bach's dance suites.
Aaron Grad ©2020
Anders Hillborg
Bach Materia for Solo Violin and Strings
Toggle open/close
The external trappings of Prokofiev's Symphony No. 1—its compact four-movement structure, friendly D-major tonality, and, of course, the Classical moniker—amount to something of a Trojan horse. An example of the composer's Neoclassical style, the Classical Symphony is in fact a work of biting modernism, rife with Prokofiev's characteristically devilish wit. (The Classical subtitle was Prokofiev's idea: a bit of fun, perhaps, echoed years later by Britten's harmonically restless Sonata "in C" for cello and piano.) "I thought that if Haydn were alive today," Prokofiev remarked, "he would compose just as he did before, but at the same time would include something new in his manner of composition. I wanted to compose such a symphony: a symphony in the Classical style." Prokofiev's orchestration (double winds, no low brass) is perfectly Haydn-and-Mozart-sized. As per the Classical style, the opening Allegro and concluding Molto vivace are tightly wrought sonata-form movements. The third movement, a gavotte, even harkens back to the Baroque. Yet the Classical Symphony's lasting impression is indeed of something unmistakably new.
Though based in traditional tonality, the music's tonal center is a constantly moving target. The D major starting pistol fired at the top of the Allegro is heard again in the eleventh measure, in C major (close in proximity, but harmonically quite remote from D). The opening melody of the Gavotte wends its way from D major to G major in short order—then takes an even stranger route, via C-sharp major, back to the home key.
Consider, too, Prokofiev's melodic contours: triadically based, as per the tradition of Haydn and Mozart, but with a sly wink nevertheless. The Allegro's second theme, uttered con eleganza by the first violins, is decorated with cheeky two-octave grace note leaps. The Larghetto's featherweight opening melody, set against gossamer string textures, seems at first to nod to the sublime slow movements of Mozart's piano concerti—yet as it unfurls, the long-breathed tune seems giddily erratic, dawdling like a carefree youth flouting a missed curfew.
Packaged in a symphony of Haydn-esque proportions, the mischievous strokes that give the Classical its spice are made all the more startling. The wolf comes in sheep's clothing, its bite made fiercer as a result. A century later, among audiences who continue to disdain the early twentieth century's most audacious scores, the seemingly harmless Classical remains a perennial favorite. Prokofiev's subterfuge is complete.
Patrick Castillo ©2014
About This Program
Approximate length 0:46
Join us for a special pre-concert happy hour with food trucks and FREE beer, then bring your drinks into the Ordway Concert Hall for a one-hour performance
Happy Hour: 4–6pm
Concert: 6–7pm
Twin Cities audiences have a chance to hear this program that Artistic Partner Pekka Kuusisto and the SPCO will bring to New York's Lincoln Center in May of 2020. Bach's Third Brandenburg Concerto, with its rapid-fire counterpoint and interplay between each musician, serves as the inspiration for Anders Hillborg's violin concerto, Bach Materia, written specifically for Kuusisto and his improvisational abilities.