Happy Hour Concert: Kuusisto, Bach and Prokofiev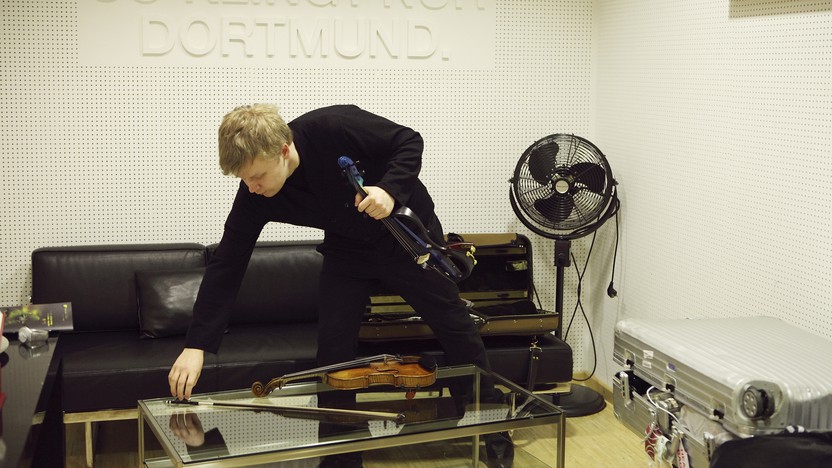 Toggle open/close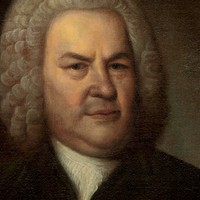 Watch Video
Johann Sebastian Bach
Brandenburg Concerto No. 3
German composer Johann Sebastian Bach's six Brandenburg Concertos were likely not originally conceived of as a whole set, but rather were individual pieces and movements Bach composed during the first two decades of the eighteenth century. He then edited and compiled them into a collection to send to the Margrave of Brandenburg-Schwedt in 1721. Some have speculated that since there is no surviving documentation of the Margrave expressing his gratitude for the score, nor any evidence that he held a performance of the pieces, that the Margrave was displeased with Bach's gift. However, there is also no evidence to support such a claim, so the reception of the Brandenburg Concertos by the Margrave will likely remain a mystery. In contemporary times, the pieces are tremendously popular.
Each Brandenburg Concerto is scored for a unique combination of instruments, and the third concerto is no exception. The dense orchestration is written for three violins, three violas, three cellos, and basso continuo (a bass line played by a combination of bowed bass instruments and/or lute, theorbo, and harpsichord). Opening with an intense movement in ritornello form, the first movement begins with the full ensemble stating the melodic theme that will return in each ritornello section. Ritornello, which means "return," refers to the opening music that is alternated with a variety of solo passages. Each instrumental section takes turns trading short melodic fragments back and forth in the solo sections of this movement, creating a lively conversation between each part.
The second "movement" of this concerto is composed of just two slow chords that form a common, open-ended harmonic progression referred to as a Phrygian half cadence. This leads immediately into the joyous third movement, which is also in ritornello form. Each part trades rapid passages of sixteenth notes back and forth, weaving together a thick texture of constantly-running notes. This brings a work that has been marked by intensity to a dramatic close.
Paula Maust ©2022
Anders Hillborg
Bach Materia for Solo Violin and Strings
Toggle open/close
The external trappings of Prokofiev's Symphony No. 1—its compact four-movement structure, friendly D-major tonality, and, of course, the Classical moniker—amount to something of a Trojan horse. An example of the composer's Neoclassical style, the Classical Symphony is in fact a work of biting modernism, rife with Prokofiev's characteristically devilish wit. (The Classical subtitle was Prokofiev's idea: a bit of fun, perhaps, echoed years later by Britten's harmonically restless Sonata "in C" for cello and piano.) "I thought that if Haydn were alive today," Prokofiev remarked, "he would compose just as he did before, but at the same time would include something new in his manner of composition. I wanted to compose such a symphony: a symphony in the Classical style." Prokofiev's orchestration (double winds, no low brass) is perfectly Haydn-and-Mozart-sized. As per the Classical style, the opening Allegro and concluding Molto vivace are tightly wrought sonata-form movements. The third movement, a gavotte, even harkens back to the Baroque. Yet the Classical Symphony's lasting impression is indeed of something unmistakably new.
Though based in traditional tonality, the music's tonal center is a constantly moving target. The D major starting pistol fired at the top of the Allegro is heard again in the eleventh measure, in C major (close in proximity, but harmonically quite remote from D). The opening melody of the Gavotte wends its way from D major to G major in short order—then takes an even stranger route, via C-sharp major, back to the home key.
Consider, too, Prokofiev's melodic contours: triadically based, as per the tradition of Haydn and Mozart, but with a sly wink nevertheless. The Allegro's second theme, uttered con eleganza by the first violins, is decorated with cheeky two-octave grace note leaps. The Larghetto's featherweight opening melody, set against gossamer string textures, seems at first to nod to the sublime slow movements of Mozart's piano concerti—yet as it unfurls, the long-breathed tune seems giddily erratic, dawdling like a carefree youth flouting a missed curfew.
Packaged in a symphony of Haydn-esque proportions, the mischievous strokes that give the Classical its spice are made all the more startling. The wolf comes in sheep's clothing, its bite made fiercer as a result. A century later, among audiences who continue to disdain the early twentieth century's most audacious scores, the seemingly harmless Classical remains a perennial favorite. Prokofiev's subterfuge is complete.
Patrick Castillo ©2014
About This Program
Approximate length 0:46
Join us for a special pre-concert happy hour with food trucks and FREE beer, then bring your drinks into the Ordway Concert Hall for a one-hour performance
Happy Hour: 4–6pm
Concert: 6–7pm
Twin Cities audiences have a chance to hear this program that Artistic Partner Pekka Kuusisto and the SPCO will bring to New York's Lincoln Center in May of 2020. Bach's Third Brandenburg Concerto, with its rapid-fire counterpoint and interplay between each musician, serves as the inspiration for Anders Hillborg's violin concerto, Bach Materia, written specifically for Kuusisto and his improvisational abilities.