Julie Albers Plays Shostakovich's First Cello Concerto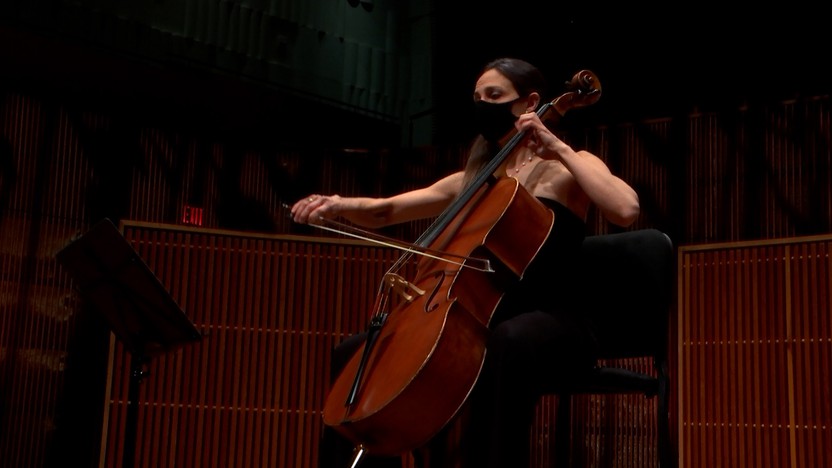 Toggle open/close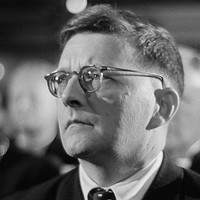 Dmitri Shostakovich
Cello Concerto No. 1
Born in Saint Petersburg in the twilight of the Russian Empire, Dmitri Shostakovich came of age during the early years of the Soviet Union. He entered the Petrograd Conservatory at the age of 13, excelled in his piano and composition studies (while also working on the side as a piano accompanist for silent films), and graduated from the renamed Leningrad Conservatory at 19. Performances of his First Symphony made him a star, and he was riding high as the top Soviet composer before his 30th birthday. Then everything changed when Joseph Stalin walked out of Shostakovich's new opera in 1936, and an official party newspaper delivered a frightening critique warning that such "formalist" music amounted to "a game of clever ingenuity that may end very badly."
Shostakovich rebounded from that sobering rebuke as well as a second crackdown in 1948, and he learned to bury any controversial tendencies in his music under a veneer of state-sanctioned approachability and realism. Still, even after the grip on Soviet artists loosened slightly following Stalin's death in 1953, Shostakovich never fully shed the self-protective cloak that had become integral to his musical expression.
Shostakovich composed the First Cello Concerto in 1959 for the cellist Mstislav Rostropovich, sixteen years after they first met when the teenaged Rostropovich enrolled in Shostakovich's composition class at the Moscow Conservatory. After debuting the concerto together in Leningrad, they traveled to London in 1960 for a momentous international premiere. (One stunned witness was the English composer Benjamin Britten, who struck up lasting friendships with both Russians). Shostakovich went on to write a second concerto for the cellist in 1966, and after Rostropovich's exile from the Soviet Union in 1974, he remained a powerful advocate for Shostakovich in the West, both on the cello and from the conductor's podium.
The first movement of the Cello Concerto No. 1 is a cheeky Allegretto built around a distinctive four-note motive. Those four notes also return at crucial points later in the work, which travels through a somber slow movement and an extended solo cadenza before reaching the thunderous finale.
Aaron Grad ©2022
Toggle open/close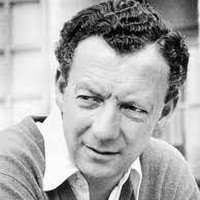 Benjamin Britten
Variations on a Theme of Frank Bridge
Benjamin Britten had a precocious start in music, studying piano and viola and composing hundreds of works by the time he was a teenager. At fourteen, Britten's viola teacher introduced him to the composer Frank Bridge, who agreed to give Britten private lessons. "I, who thought I was already on the verge of immortality, saw my illusions shattered," Britten later wrote about his course of study with Bridge, a demanding teacher who fostered the rigorous technique needed to round out Britten's natural inventiveness.
Bridge's name mostly arises now thanks to the tribute composed by his pupil in 1937. Britten accepted the commission on very short notice from the Boyd Neel Orchestra, which desperately needed a new English piece to play at the prestigious Salzburg Festival. The orchestra had already performed Britten's Simple Symphony for Strings, making the young composer a natural choice. Britten obliged by writing the Variations on a Theme of Frank Bridge in less than a month.
The source material, taken from Bridge's Three Idylls for string quartet from 1906, is just the slightest wisp of a melody, which Britten expanded into a set of free variations. Coming out of the dramatic introduction, a chord sustained under a series of plucks reveals itself as the start of the theme. Each brief variation highlights a particular aspect of Bridge's personality, as outlined by Britten: the Adagio corresponds to "his depth," the March "his energy," and the Romance "his charm." The next three movements drift toward parody, with a Gioachino Rossini-inspired Aria Italiana ("his humor"), a neo-Baroque Bourrée classique with prominent violin solos ("his tradition"), and an irreverent Viennese Waltz ("his enthusiasm"). A fiery Perpetual Motion ("his vitality") clears the air for the haunting Funeral March ("his sympathy") and the ethereal Chant ("his reverence"). The work closes with a Fugue and Finale, a testament to Bridge's "skill and dedication."
Aaron Grad ©2022
About This Program
Approximate length 1:00
Inspiration for a composition can come from many different sources. Variations on a Theme of Frank Bridge paints an intimate portrait of Britten's mentor Frank Bridge — each variation highlighting an aspect of Bridge's personality. Dmitri Shostakovich, on the other hand, was always quiet about what his music meant, likely a result of being censored and threatened by the Stalin regime for much of his career. His first cello concerto, nimbly performed by SPCO Principal Cello Julie Albers, is a timeless hallmark of cello repertoire.
Masks will not be required, but will be welcomed and encouraged. Proof of vaccination, booster or a negative COVID-19 test result will no longer be required. More Information
Concerts are currently limited to 50% capacity to allow for distancing. Tickets are available by price scale, and specific seats will be assigned and delivered a couple of weeks prior to each concert — including Print At Home tickets. Please email us at tickets@spcomail.org if you have any seating preferences or accessibility needs. Seating and price scale charts for the Ordway Concert Hall can be found at thespco.org/venues.