Mozart's Symphony No. 39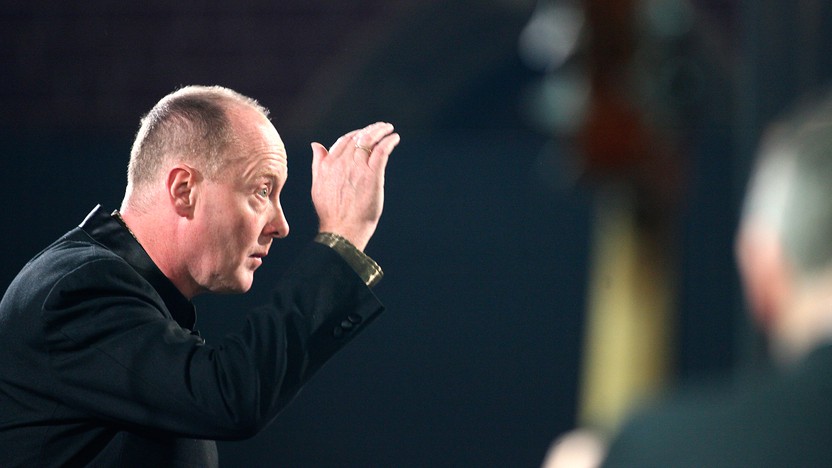 Sponsored By
May 2, 2015
Toggle open/close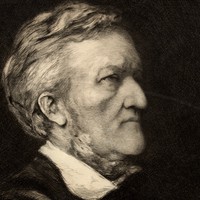 Richard Wagner
Siegfried Idyll
Cosima Wagner was the illegitimate daughter of Franz Liszt and his longtime mistress, a French-German countess. Raised in Paris by her grandmother, Cosima went on to marry her former piano teacher, the conductor Hans von Bülow. She was unhappy in her marriage, and neither her Catholic faith nor concerns over her two young children were enough to deter her from pursuing her infatuation with Richard Wagner, twenty-four years her senior and also married at the time the two met. They consummated their affair in 1864, and Cosima gave birth in April 1865 to Wagner's daughter Isolde. The birth coincided with rehearsals for the premiere of Wagner's opera Tristan und Isolde, conducted by none other than von Bülow.
Cosima's affair with Wagner scandalized Munich society. She spent long periods living in Wagner's house at Tribschen, overlooking Lake Lucerne, and she bore him a second daughter, Eva, in February 1867. She finally asked von Bülow for a divorce and moved in with Wagner permanently in 1868. She gave birth to her third child by Wagner in June 1869, a boy they called Siegfried in honor of Wagner's opera-in-progress by that name. The divorce was finalized in July 1870, and Richard and Cosima Wagner were married a month later.
Wagner capped that momentous year with an extraordinary birthday present for his thirty-three-year-old bride. On Christmas morning (she was actually born on the 24th, but she celebrated her birthday a day later), he woke up Cosima with the sounds of a fifteen-piece chamber orchestra piled onto the staircase outside her bedroom. She described the experience in her diary:
When I woke up I heard a sound, it grew ever louder, I could no longer imagine myself in a dream, music was sounding, and what music! After it had died away Richard came in to me with the five children and put into my hands the score of his Symphonic Birthday Greeting. I was in tears, but so, too, was the whole household; Richard had set up an orchestra on the stairs and thus consecrated our Tribschen forever! The Tribschen Idyll—thus the work is called!
The title Wagner inscribed on the original score was Tribschen Idyll with Fidi-Birdsong and Orange Sunrise, presented as a symphonic birthday greeting to his Cosima by her Richard. "Fidi-Birdsong and Orange Sunrise" were references to the sights and sounds Wagner remembered from the early morning birth of their son, nicknamed Fidi. The familiar title Siegfried Idyll came later, when the cash-strapped Wagner offered this private memento for publication.
The opening melody of the Siegfried Idyll comes from a sketch Wagner made in 1864, not long after he began his affair with Cosima. The same theme appears in Act III of Siegfried, sung by Brünnhilde to the words, "Eternal I was, eternal I am, eternal in sweet, Yearning bliss, yet eternal for your sake!" The Idyll also incorporates a traditional lullaby, Schlafe, Kindchen, schlaf, which Wagner had transcribed in 1868. Most of the twenty-minute work retains a sweet, dreamy quality; it makes only one powerful surge, with triumphant music fashioned after a leitmotif associated with the title character in Siegfried. (For the premiere, family friend and conductor Hans Richter taught himself to play trumpet for that thirteen-measure passage.) A gentle version of the same Siegfried motive brings this magical Idyll to a hushed conclusion.
Aaron Grad ©2012
Toggle open/close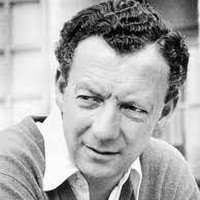 Benjamin Britten
Variations on a Theme of Frank Bridge
Benjamin Britten had a precocious start in music, studying piano and viola and composing hundreds of works by the time he was a teenager. At fourteen, Britten's viola teacher introduced him to the composer Frank Bridge, who agreed to give Britten private lessons. "I, who thought I was already on the verge of immortality, saw my illusions shattered," Britten later wrote about his course of study with Bridge, a demanding teacher who fostered the rigorous technique needed to round out Britten's natural inventiveness.
Bridge's name mostly arises now thanks to the tribute composed by his pupil in 1937. Britten accepted the commission on very short notice from the Boyd Neel Orchestra, which desperately needed a new English piece to play at the prestigious Salzburg Festival. The orchestra had already performed Britten's Simple Symphony for Strings, making the young composer a natural choice. Britten obliged by writing the Variations on a Theme of Frank Bridge in less than a month.
The source material, taken from Bridge's Three Idylls for string quartet from 1906, is just the slightest wisp of a melody, which Britten expanded into a set of free variations. Coming out of the dramatic introduction, a chord sustained under a series of plucks reveals itself as the start of the theme. Each brief variation highlights a particular aspect of Bridge's personality, as outlined by Britten: the Adagio corresponds to "his depth," the March "his energy," and the Romance "his charm." The next three movements drift toward parody, with a Gioachino Rossini-inspired Aria Italiana ("his humor"), a neo-Baroque Bourrée classique with prominent violin solos ("his tradition"), and an irreverent Viennese Waltz ("his enthusiasm"). A fiery Perpetual Motion ("his vitality") clears the air for the haunting Funeral March ("his sympathy") and the ethereal Chant ("his reverence"). The work closes with a Fugue and Finale, a testament to Bridge's "skill and dedication."
Aaron Grad ©2022
Toggle open/close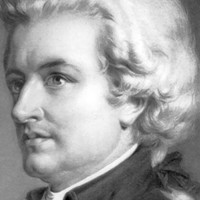 Wolfgang Amadeus Mozart
Symphony No. 39 in E-flat
Mozart began writing symphonies at the age of eight, modeling his style after the pioneering works by an older friend he made in London, J. C. Bach. Later, as a teenager back in his hometown of Salzburg, Mozart looked to the example of Joseph Haydn, whose brother happened to work alongside Mozart and his father. Some of the symphonies Mozart wrote as a 17- and 18-year-old ranked among his first truly brilliant compositions, and by that time he had already completed three-fourths of his lifetime symphonic output.
Mozart had fewer occasions to write symphonies during his heyday as a busy freelancer in Vienna, and he might never have written his three final symphonies were it not for the money troubles that plagued his final years. Unable to support his family with concert appearances or opera commissions, he was reduced to pleading with friends for loans, seeking cheaper housing in the suburbs, and following dead-end leads for his music. Some opportunity must have prompted Mozart to compose three symphonies in a span of eight weeks during the summer of 1788, but most likely nothing came of it. Mozart may not even have heard all three before he died.
Symphony No. 39 (the first of the final trilogy) is Mozart's only mature symphony without oboes, instead featuring clarinets. It is also one of his few symphonies to begin with a slow introduction, a structure favored by Haydn. The mellow key of E-flat and a rolling three-beat tempo reinforce the gentle character of the fast body of the opening movement.
The Andante con moto second movement preserves the docile atmosphere. Strings introduce the innocent theme alone at first, but individual woodwinds later emerge for some of the movement's most personal passages, their echoing lines interweaving with chamber-music delicacy.
Interrupting the noble and sturdy Menuetto, whimsical clarinet counterpoint in the contrasting trio section parodies the Ländler, an Austrian folk dance. In the finale, the main theme separates into malleable scale fragments and leaps, foreshadowing Beethoven's symphonies with their relentless manipulations of small motives.
Aaron Grad ©2017
About This Program
Approximate length 2:00
After leading triumphant performances of Beethoven's Eighth Symphony in the 2013-14 season, British conductor Paul McCreesh returns to direct a program of works ranging from the Classical period to the 20th century. This program opens with Wagner's Siegfried Idyll, a piece based on music from the composer's opera Siegfried, written for his wife Cosima as a gift to awaken her on her birthday. This is followed by Britten's touching homage to his music teacher, Variations on a Theme of Frank Bridge. The program closes with Mozart's 39th Symphony, one of the final symphonic statements in the composer's prolific career.