Musician Appreciation Concert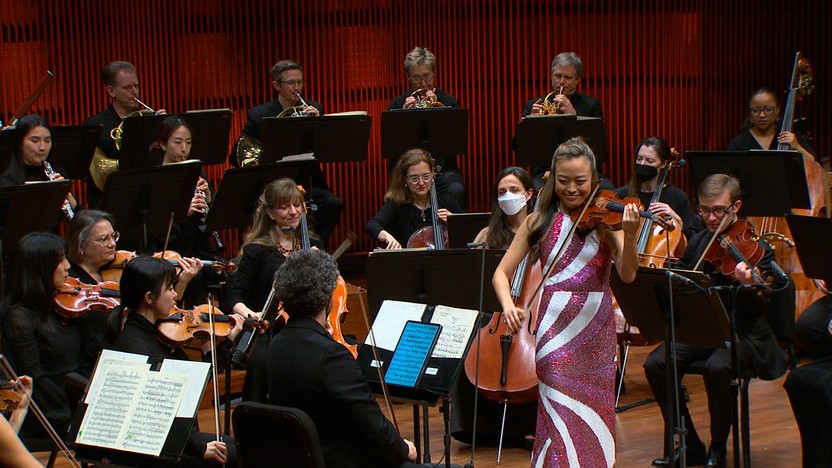 About This Program
Approximate length 1:12
Enjoy selections from our fifth annual Musician Appreciation Concert, a celebration of the musicians of The Saint Paul Chamber Orchestra, who enrich our community by sharing their incredible artistry with thousands of people every year. This special concert showcases the extraordinary talents of our musicians in solo and ensemble performances and features unique opportunities to get to know members of the orchestra. With works by Felix Mendelssohn and Antonio Vivaldi, this concert features popular pieces from both the Classical and Baroque eras.
This special concert is a fundraising event and is not eligible for ticket exchanges, membership ticket reservations, guest pass redemption, or free child or student tickets. Additional restrictions may apply. Visit thespco.org/appreciation for details.
Livestream Information
This event will be streamed live for free via the SPCO Concert Library.
We hope all viewers will make a contribution to the event to support our wonderful musicians.
Make A Gift
Can't attend, but still want to support the musicians of the SPCO? You can make a gift directly. All proceeds from this fundraising event will go to SPCO musicians in appreciation for the passion, dedication and incredible artistry they share every year. Make your gift today.
Event Packages
Ticket packages are also available for purchase. To reserve a Gold or Silver event package, please contact Jasmine Magner at 651.292.6988 or jmagner@spcomail.org.
Gold – $10,000 (includes 10 premium tickets)
Silver – $5,000 (includes 6 premium tickets)
Note: Your ticket purchase total minus $15 per ticket is tax-deductible to the extent allowed by law. Please note that it is our policy that donations made to this event are non-refundable.
Increase your support for the musicians with a special matching gift opportunity
The SPCO Board of Directors and Governing Members will match all new or increased gifts for the Musician Appreciation Concert. If you supported last year's Musician Appreciation Concert, we hope you'll increase your gift this year, and the amount of your increase will be matched. If you didn't support last year's event, your entire gift this year will be matched!
Frequently Asked Questions
What portion of my ticket purchase is tax deductible?
The fair market value of each ticket is $15; that means the remaining amount of the purchase price for each ticket to this special event is a donation to the musicians of the SPCO. Example: An SPCO fan purchases a premium ticket for $1,000. $985 of the purchase price is a tax-deductible donation; the remaining $15 is the cost of admission. Please note that it is our policy that donations made to this event are non-refundable.
I cannot make it or do not wish to attend in-person. Is there an option to participate virtually?
Yes! This special event will be streamed live free of charge in the SPCO Concert Library and available for on-demand replay through the end of Tuesday, March 7. Because this event is a special celebration benefiting the musicians of the SPCO, we hope that all virtual attendees will make a donation. See above for details on how to make your gift.
What happens to my ticket(s) if I can no longer attend?
Please contact the Ticket Office to turn your tickets back as a tax-deductible donation to the musicians of the SPCO or request a refund. This concert is a special fundraising event, so tickets cannot be exchanged from this event into another performance. The Ticket Office can be reached by phone Monday through Friday 12pm–5pm at 651.291.1144 or by email at tickets@spcomail.org.
Please note that the portion of each ticket purchase that is a tax-deductible donation is not refundable. For example: An SPCO fan purchases a premium ticket for $1,000. They wish to refund their ticket. The SPCO will refund $15, the fair market value of admission. The remaining $985 is a non-refundable donation to the musicians of the SPCO.
What is the SPCO's current COVID-19 health and safety plan?
Please visit thespco.org/safe for the SPCO's complete Health and Safety Plan. We recognize that there will be a wide range of comfort levels amongst audience members. Masks will not be required but are welcomed and encouraged, and previous venue capacity limits have been lifted. We ask that guests stay home if they are sick or if they are exposed to COVID-19.