Schubert's Death and the Maiden with Patricia Kopatchinskaja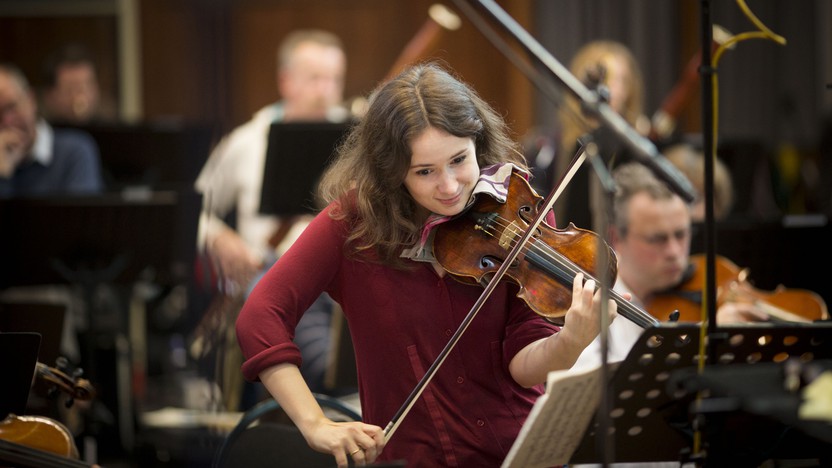 Toggle open/close
Gideon Klein
Partita for String Orchestra
Gideon Klein was born into a Jewish family in Moravia, part of the modern Czech Republic. After studying in Prague, he was preparing to attend London's Royal Academy of Music, where he had been offered a scholarship. Instead, just shy of his 22nd birthday, the Nazi authorities deported him and other Jews in Prague to the newly opened Theresienstadt concentration camp.
Theresienstadt held a nefarious double function in the Nazi scheme, serving to funnel Jews toward the labor and death camps further east while also providing a source of propaganda to mislead the rest of the world. Besides Klein, many other talented musicians ended up in Theresienstadt, including fellow composers Pavel Haas and Viktor Ullman. They were allowed to put on concerts, and an impressive body of music was composed during the camp's three-and-a-half year span.
In October 1944, just days after Klein finished a trio for violin, viola and cello, he was among those transferred to Auschwitz. He is believed to have died in January 1945, possibly in the final death march precipitated by the oncoming Russian army. Klein had just delivered a stack of scores to his girlfriend for safekeeping, and so at least a portion of the compositions he made in captivity survived.
The Partita heard here is a 1990 arrangement of Klein's String Trio by Vojtěch Saudek (1951-2003).The fast outer movements are filled with lively, burly themes redolent of folk music; the longer middle movement weaves slow variations on a Moravian folk song.
Aaron Grad ©2016
Toggle open/close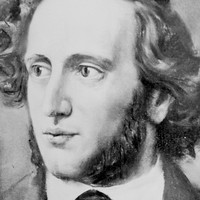 Felix Mendelssohn
Violin Concerto in D Minor
Felix Mendelssohn, the grandson of a famous philosopher and the son of a successful banker, took full advantage of the opportunities that came with his family's position. This was a child who celebrated his 12th birthday with a private performance of his first musical, in a fully staged production at his house in Berlin, featuring members of the royal orchestra! By the age of 14, Mendelssohn had tried out a dozen modest sinfonias at the family's regular house concerts, and he added his debut symphony in 1824, shortly after his 15th birthday.
Mendelssohn's first foray into concerto writing came at the age of 13, when he wrote the Violin Concerto in D Minor. It turned out to be a fitting bookend to his much-loved Violin Concerto in E Minor, the last orchestral work he completed before his death at the age of 38. Both concertos arose out of friendships formed in the chamber music readings held at the Mendelssohn house: The early D-minor concerto was written for violinist Eduard Rietz, who was a frequent guest along with his cellist brother; soon another rising star joined their clique, the violinist Ferdinand David, and he was later entrusted with Mendelssohn's E-minor concerto. After Mendelssohn's death, his widow gave the unpublished early concerto to David, and it stayed in private hands until it reached the twentieth-century violin virtuoso Yehudi Menuhin. He finally edited the score for publication and gave the first public performance in 1952.
Mendelssohn took to heart the lessons of his childhood teacher, Carl Friedrich Zelter, who introduced the young composer to the formal rigor of J.S. Bach as well as the elegant balance of the Classical masters. The Violin Concerto in D Minor, starting from its muscular first movement, honors Baroque tradition with its bold unisons and crisp counterpoint. The sharp dynamic contrasts and balanced phrasing reflect Haydn and Mozart, while the passionate lyricism and throbbing urgency are all Mendelssohn, as he continued to prove in other early standouts like the Octet for Strings and the Overture to A Midsummer Night's Dream. The violinist's main theme in the Andante movement, entering on an unexpected chord after a wistful lead-in, is one of those wise and thoughtful offerings that makes Mendelssohn's maturity as a 13-year-old all the more mind-boggling. The scampering finale is pure, devilish fun, the kind of playful mood that Mendelssohn carried forward into his many exceptional scherzos.
Aaron Grad ©2016
Anonymous
Byzantine Chant on Psalm 140 for String Orchestra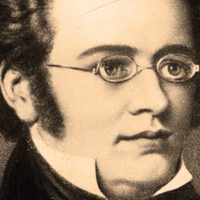 Franz Schubert
Song D. 531 from Death and the Maiden Quartet for String Orchestra (arr. Wiancko)
John Dowland
Pavan from Seaven Teares for String Quintet
György Kurtág
"Restless" from Kafka Fragments
Toggle open/close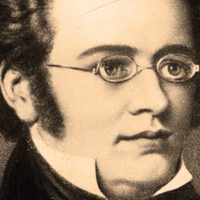 Franz Schubert
Death and the Maiden Quartet for String Orchestra
In the middle of the 14th century, the Bubonic plague, also known as the Black Death, eradicated half of the population in Europe. From about this time, there appeared representations of the "Dance of Death", often on the walls of churches or in cemeteries, of a human being meeting and dancing with a personification of death. The message that death touches us all, no matter what station of life, was portrayed through a series of pictures that reflected the hierarchy of society, starting with the pope, and then going down from emperor, cardinal, king, clergyman, young man, maiden, child and so on. Very often the individual pictures were accompanied by short verses in four lines, and as a rule, the human being says something to death and then death responds. These verses often included some humor or even social criticism.
The poem "Der Tod und das Mädchen" (1785) by Matthias Claudius (1740-1815) is clearly an emanation of this medieval tradition. It even takes over the form of the ancient verses with a dialogue between victim and death.
Das Mädchen: Vorüber! Ach, vorüber! Geh, wilder Knochenmann! Ich bin noch jung! Geh, lieber, Und rühre mich nicht an. Und rühre mich nicht an.
Der Tod: Gib deine Hand, du schön und zart Gebild! Bin Freund, und komme nicht, zu strafen. Sei gutes Muts! ich bin nicht wild, Sollst sanft in meinen Armen schlafen!
The Maiden: Pass me by! Oh, pass me by! Go, fierce man of bones! I am still young! Go, my dear, And do not touch me. And do not touch me.
Death: Give me your hand, you beautiful and tender form! I am a friend, and come not to punish. Be of good cheer! I am not fierce, Softly shall you sleep in my arms!
Such consoling and even seducing words will still give chilling shivers, coming from a skeleton that will take you to your grave.
Franz Schubert set this poem to music in his Lied, "Der Tod und das Mädchen" (1817). After the agitated and rhythmically irregular exclamation by the terrorized maiden, the rhythm becomes that of a solemn Pavan just in the moment when she calls him "dear". The Pavan, a dignified and formal Renaissance dance, was often danced by the king and was also used in music of mourning. In the context of Schubert's Lied, the Pavan rhythm expresses the sovereign power of death over the surrendering human creature.
This same material reappears in Franz Schubert's Quartet No.14 in D Minor, Death and the Maiden (1824). The variations of the slow movement explore different facets of the Pavan part of the Lied: anxiety, menace and anger. The variation with the solo cello can be understood as the tender seduction of a shy virgin.
The first movement however takes up the atmosphere of the agitated first part of the Lied; terror strikes from the first beat, death appears from nowhere and repeated triplets put everything into excited doubt.
The Scherzo can then be seen as the death dance. The trio, however, is a caressing, even erotic waltz, where the girl maybe still feels sad longings for life. Or is the longing already for death? During the repetition of the Scherzo, the maiden surrenders to the increasingly violent dance.
The final movement is a furious, unreal and ghastly tarantella leading into another world.
Schubert wrote this quartet in a very difficult time. The failure of his operas, his poverty, his miserable and declining state of health, the absence of his best friends and the anguish of disappointed love drove him to despair. In a letter to his friend Leopold Kupelwieser, he wrote:
"I feel myself the most unhappy, most wretched being in the world…'My peace is gone, my heart is heavy; I shall find it never, and never more;' I can say daily, for every night when I go to sleep, I hope that I may never wake again, and every morning renews the grief of yesterday..."
Clearly we have here the idea of death as friend and redeemer.
To open our ears to this musical exploration, we have included a prelude and interludes between each of the Schubert movements. We begin with a meditation: an ancient Byzantine chant of Psalm 140 ("Lord, I have cried unto thee, hear me"). Of course, we have to include Schubert's original song, here in an arrangement by Michi Wiancko. We echo the Pavan in Schubert's 2nd movement with one of John Dowland's Pavanes from Seaven Teares. Before the Finale, we refresh our ears with unsettling works by one of the greatest living composers, György Kurtág. This project with the SPCO has enlarged our dimensions of hearing and together we approached the music as a soloist would, individually, but all souls mystically linked to an intuitive whole that does not need a conductor
Patricia Kopatchinskaja ©2016
About This Program
Approximate length 2:00
The opening half of this concert features Patricia Kopatchinskaja as soloist on Mendelssohn's Violin Concerto as well as Gideon Klein's Partita for String Orchestra. Klein, along with many other artists, was forced into slavery by the Nazi regime, and wrote this work for violin, viola and cello while imprisoned in Theresienstadt Concentration Camp. After imaginative performances of Schubert's Death and the Maiden in the 2014.15 season that were "bursting with life, full of urgency, anxiety, tumult and triumph" (Pioneer Press), Kopatchinskaja restages her musical meditation on death. Works by Dowland, Kurtág and Schubert serve as interludes among movements of Schubert's Death and the Maiden Quartet for String Orchestra to illuminate the work anew.