Steven Copes Plays Prokofiev's First Violin Sonata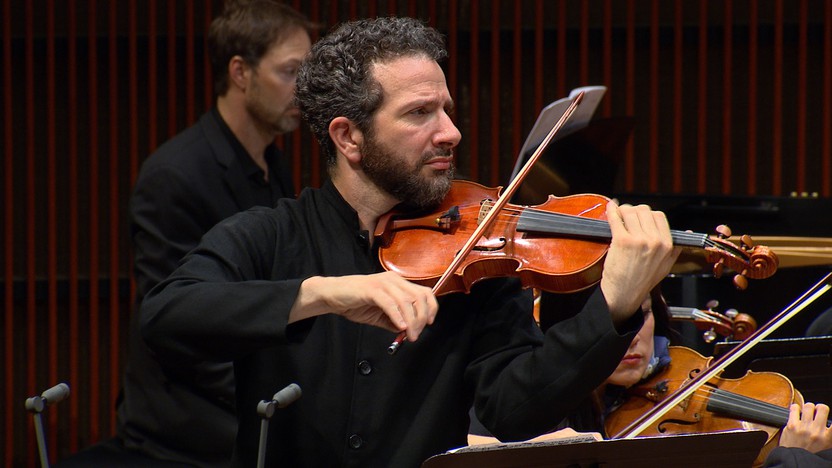 Toggle open/close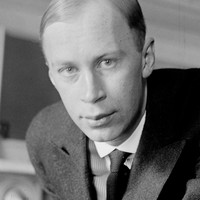 Sergei Prokofiev
Sonata for Violin and Orchestra, No. 1 (orch. by Prutsman) (World Premiere, SPCO Commission)
The orchestration of Prokofiev's Violin Sonata No. 1 is made possible by generous support from Michael Hostetler and Erica Pascal.
Sergei Prokofiev settled in Moscow in 1936, nearly twenty years after he left Russia in the wake of the October Revolution of 1917. As an expatriate in Europe, he had found himself increasingly at odds with strident, modern tastes; meanwhile, Soviet audiences and authorities proved receptive to the composer's "new simplicity," as he dubbed his developing style. A string of successful film score and ballet commissions enticed Prokofiev back to his homeland on a permanent basis, and he entered the stream of Soviet music firmly established as a star.
The Violin Sonata No. 1 in F Minor demonstrates how Prokofiev's applied his clear and forthright style in music of the heaviest emotions. He began the score in 1938, amid the Great Purge in which Stalin killed or displaced millions of supposed enemies; having stalled out after two movements, Prokofiev returned to the sonata in 1943, in the midst of World War II, and he finally finished it in 1946. The four-movement structure, alternating slow and fast movements, rekindles a tradition from early in the history of violin sonatas, as modeled by Arcangelo Corelli and George Frideric Handel. The slow first movement dominates the mood of the sonata in a way that it couldn't as an inner movement, especially when its material returns to give the finale a slow ending, conveying a sound that Prokofiev likened to "wind in a graveyard." After Prokofiev died in 1953 (on the very same day as the man who had become his tormentor, Joseph Stalin), the violinist for whom the sonata was written, David Oistrakh, played portions of it at the composer's funeral.
In this new version commissioned by the Saint Paul Chamber Orchestra, the composer and pianist Stephen Prutsman (an SPCO Artistic Partner from 2004 to 2007) orchestrated Prokofiev's piano part to convert this sonata into a dramatic concerto.
Aaron Grad ©2022
Toggle open/close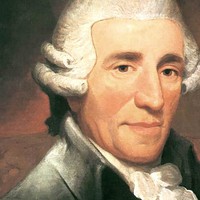 Franz Joseph Haydn
Sinfonia concertante
Franz Joseph Haydn had been serving the Esterhazy family for 30 tireless years when a new prince decided to disband the court's orchestra and cut back the role of their longtime Kapellmeister. Not that Haydn had any need to worry; after an earlier contract negotiation gave him freedom to publish scores, his music had spread all over Europe and made him the most famous composer alive. Johann Peter Salomon, a German impresario active in England, seized the opportunity and invited Haydn to spend the 1791-92 season in London.
While Salomon and Haydn presented weekly concerts on Mondays in the Hanover Music Rooms, a competing group occupied the same venue on Thursdays for performances featuring Ignaz Pleyel, one of Haydn's former composition students. As Haydn put it in a letter to a friend in Vienna, "Now a bloody harmonious war will commence between master and pupil."
Adopting a recent French trend, the Sinfonia concertante, Pleyel impressed his London audiences with diverse concertos for multiple soloists. Not to be outdone, Haydn designed a Sinfonia concertante of his own, using a solo quartet of violin, cello, oboe, and bassoon. By choosing four soloists that encompass a full sweep through the bass and treble registers, Haydn put himself on terrain that was familiar from his dozens of string quartets, and often the soloists play as if they are a self-contained chamber music group, with their statements framed by the subtlest of plucks from the strings or long tones from the winds.
The central Andante emphasizes the singing qualities of the soloists, placing them in shifting duets and trios in sweet harmony. The finale continues in an operatic vein, interrupting the action for free-flowing recitatives from the solo violin.
Aaron Grad ©2022
About This Program
Approximate length 1:00
Concertmaster Steven Copes teamed up with friend and composer Stephen Prutsman to create a new orchestration of Sergei Prokofiev's dark and mysterious Sonata, originally for violin and piano, but premiered here in a version specially tailored for the virtuoso musicians of the SPCO. Teamwork is also the name of the game in Franz Joseph Haydn's Sinfonia concertante which features the oboe and bassoon, along with violin and cello, in a truly symphonic concerto.
The orchestration of Prokofiev's Violin Sonata No. 1 is made possible by generous support from Michael Hostetler and Erica Pascal.
Safety measures for SPCO performances at the Ordway Concert Hall:
Masks will not be required, but will be welcomed and encouraged. Proof of vaccination, booster or a negative COVID-19 test result will no longer be required.
Safety measures for SPCO Neighborhood Series performances (all venues except the Ordway):
All audience members and SPCO staff will be required to wear non-cloth masks (N95, KN95, KF94 or surgical masks). Proof of vaccination, booster or a negative COVID-19 test result will no longer be required.
Concerts are currently limited to 50% capacity to allow for distancing. Tickets are available by price scale, and specific seats will be assigned and delivered a couple of weeks prior to each concert — including Print At Home tickets. Please email us at tickets@spcomail.org if you have any seating preferences or accessibility needs. Seating and price scale charts can be found at thespco.org/venues.