Stewart Goodyear Plays Beethoven's Third Piano Concerto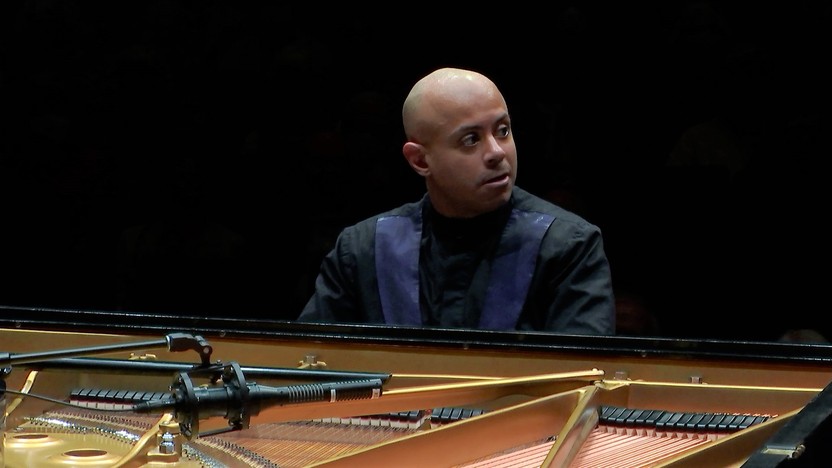 Toggle open/close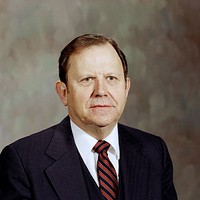 William Lucas
Fanfare for a Distant Friend (World Premiere)
A Detroit native and graduate of the University of Michigan, William Lucas has been a member of the Detroit Symphony Orchestra trumpet section since 1988, and he also teaches at his alma mater and publishes his own compositions, arrangements and books on trumpet pedagogy and performance psychology. Lucas composed this fanfare for trumpeter Lynn Erickson, an orchestra member since 1991, and provided the following program note.
I composed this for my friend, trumpeter Lynn Erickson. The work opens with the chatter of friends in our society represented by a choir of electronic trumpets. All are soon warned of an impending disaster by the solo trumpet. The solo trumpet continues to implore and warn in tritone intervals conveying the anger, dismay, rage and sorrow over a pandemic that should not have happened, and that should have been better managed from the outset.
In the second section, the electronic trumpets represent our society now aware and alert to the situation. The solo trumpet continues to opine the tragedy of not being able to spend our time with friends — because they must be distant socially, because we cannot travel, or because they have suddenly ceased to exist due to the pandemic.
In the third section the muted trumpets represent the virus itself, as it creepily overtakes the population.
In the fourth and final section the chatter of our friends returns as the solo trumpet yet warns, "It is not over yet, heed the tritones of warning!" Our society, however, fails to listen as the virus once gain surges and overwhelms until the end, when our lone solo trumpet hangs on to a solitary C-natural, a sign that we will somehow survive the virus, alone if we must.
—William Lucas
Aaron Grad ©2022
Toggle open/close
Ludwig van Beethoven wrote most of the Third Piano Concerto in 1800, in advance of a major debut concert in Vienna, but he chose to play an earlier concerto instead. After a few more years of tinkering, he unveiled the new concerto on an 1803 program that also included the premiere of the Second Symphony. For the concerto, Beethoven performed off a hastily written score that, in the words of his page turner, contained "almost nothing but empty leaves; at the most, on one page or another a few Egyptian hieroglyphs wholly unintelligible to me were scribbled down to serve as clues for him."
The concerto opens with a definitive statement from the strings countered by a questioning response from the winds. In line with the style that would come to dominate Beethoven's "middle" period, these themes separate into essential fragments to be examined from all angles, with various rising triads, falling scales, and timpani-like alternations appearing in the foreground and background.
The first E-major chord of the central Largo could hardly be more alien, or more luminous. The movement continues as a study in contradictions: humble yet ornate, foreign yet familiar, slow yet restless. A striking exchange occurs when the flute and bassoon trade childlike melodies over a simple plucked background, while the piano issues gusts of sound blurred by the sustain pedal.
The finale returns to the home key with a theme that lands heavily on an unresolved A-flat: the very same pitch that, in a different guise, defined the bright harmonies of the slow movement. (On the piano, A-flat is identical to G-sharp, the major third in the key of E.) Later in the movement, the same musical pun allows the slow movement's key of E-major to return briefly to put a radiant new sheen on the finale's main theme.
Aaron Grad ©2022
Toggle open/close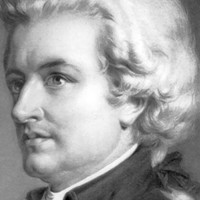 Watch Video
Wolfgang Amadeus Mozart
Symphony No. 41, Jupiter
When Wolfgang Amadeus Mozart began writing symphonies, he was an eight-year-old keyboard prodigy in London, where he had played for King George III and befriended Johann Christian Bach — the youngest son of Johann Sebastian Bach, and a trendsetter in the emerging genre of the symphony. Mozart's earliest symphonies naturally followed the bright and clean style mastered by the "London" Bach. Later, as a teenager back in his hometown of Salzburg, Mozart looked to the example of Joseph Haydn, whose brother happened to work alongside Mozart and his father. Some of the symphonies Mozart wrote as a seventeen- and eighteen-year-old ranked among his first truly brilliant compositions, and by that time he had already completed three-fourths of his lifetime symphonic output.
Mozart had fewer occasions to write symphonies during his heyday as a busy freelancer in Vienna. He might never have written his three final symphonies were it not for the money troubles that plagued his final years, a period when demand for his performances had dried up. Some opportunity must have sparked this symphonic trilogy (a detail historians have not managed to unearth), but most likely nothing came of it. Mozart may not even have heard all three before he died.
Mozart's final symphony, completed on August 10, 1788, has long been known as the Jupiter Symphony, a moniker probably added by Johann Peter Salomon, the same shrewd impresario who later brought Franz Joseph Haydn to London. The opening movement, set in an energized Allegro vivace tempo, establishes a ceremonial atmosphere with an abundance of quick, stepwise swoops. The Andante cantabile slow movement follows with serene and spacious music, in which ample rests and breaks leave melodies unaccompanied, downbeats unstressed, and textures uncluttered.
Like in the symphonies by his friend Haydn, the minuet functions as a light-hearted palate cleanser. The main "joke" here comes in the form of phrases that slip down through segments of the chromatic scale, touching on notes that momentarily clash with the home key.
The finale introduces a number of related themes and then juggles them with a variety of contrapuntal techniques. This balancing act reaches its climax in the coda, which contains a swirling fugue treatment of all five main themes at once. It proves how well Mozart absorbed the techniques of Johann Sebastian Bach, at a time when most composers dismissed such formal counterpoint as hopelessly old-fashioned, and it affirms Mozart's godlike talent for marrying intellectual clarity with earth-shaking emotion.
Aaron Grad ©2022
About This Program
Approximate length 1:00
Stewart Goodyear returns to the SPCO in a program of works by Ludwig van Beethoven and Wolfgang Amadeus Mozart. Inspired by Mozart's concerti, Beethoven's third piano concerto begins the program with a stoic piano entrance where the soloist passes grand melodic lines to and from the orchestral accompaniment. Ending the program is Mozart's widely-acclaimed final symphony, Jupiter, written when he was 32 years old, only a few years before his death.
Safety measures for SPCO Neighborhood Series performances (all venues except the Ordway) All audience members and SPCO staff will be required to wear non-cloth masks (N95, KN95, KF94 or surgical masks). Proof of vaccination, booster or a negative COVID-19 test result will no longer be required.
Safety measures for SPCO performances at the Ordway Concert Hall
Masks will not be required, but will be welcomed and encouraged. Proof of vaccination, booster or a negative COVID-19 test result will no longer be required.
Concerts are currently limited to 50% capacity to allow for distancing. Tickets are available by price scale, and specific seats will be assigned and delivered a couple of weeks prior to each concert — including Print At Home tickets. Please email us at tickets@spcomail.org if you have any seating preferences or accessibility needs. Seating and price scale charts can be found at thespco.org/venues.