Chamber Music Series: Wynton Marsalis's A Fiddler's Tale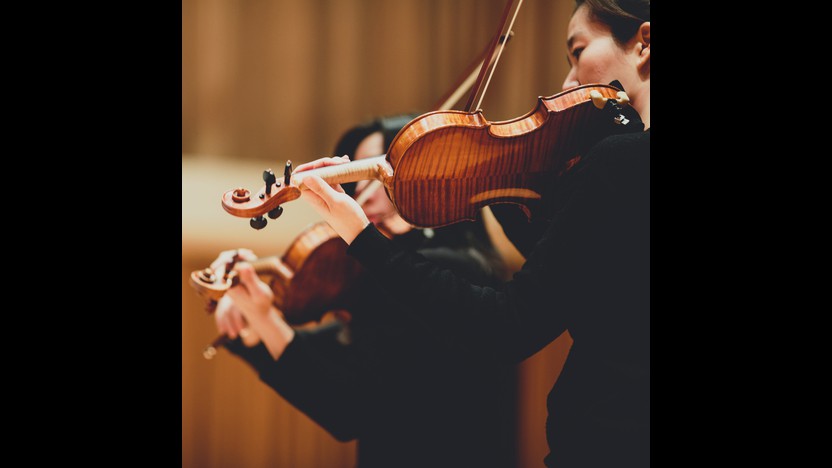 Toggle open/close
Wynton Marsalis
A Fiddler's Tale
The trumpeter and composer Wynton Marsalis comes from a New Orleans family with impressive jazz credentials—his father, Ellis Marsalis, Jr., is a distinguished pianist, and three of his brothers are in the music business as well, including Branford, a saxophonist. For Wynton, a career that began as a sideman with Art Blakey and the Jazz Messengers led to his own successes as a solo artist, performing and recording all forms of jazz and even classical trumpet repertoire. As a composer, he became the first jazz artist to win the Pulitzer Prize for Composition in 1997 for the extended suite Blood on the Fields, and he continues to explore intersections of concert music and improvised jazz, in works such as Swing Symphony and Blues Symphony.
In 1987, Marsalis cofounded Jazz at Lincoln Center, where he continues to serve as artistic director and leader of their world-famous jazz orchestra. Jazz at Lincoln Center may operate out of its own swanky new headquarters on Columbus Circle, a few blocks south of the Lincoln Center campus, but it hasn't stopped the boundary-pushing Marsalis from collaborating with his "uptown" counterparts. For a 1998 U.S. tour by the Chamber Music Society of Lincoln Center, clarinetist and Artistic Director David Shifrin approached Marsalis with the idea of writing a companion piece to The Soldier's Tale by Stravinsky. The poet and jazz critic Stanley Crouch wrote a new libretto inspired by Stravinsky's version—a variation on the classic "violinist who sells his soul to the devil" fable—and Marsalis composed a score for the same septet of clarinet, bassoon, cornet, trombone, percussion, violin and bass.
The distance between Stravinsky and Marsalis is closer than one might think, especially considering that Stravinsky wrote The Soldier's Tale for a group that was essentially a miniature dance band, and at a time when he was actively engaging with early American jazz. (He even wrote a ragtime number for the soldier-violinist to play.) The same seven instruments mesh well with Marsalis' jazzy language, especially the "rhythm section" of bass and percussion—with the bass often plucked instead of bowed, and the percussion functioning like a jazz drum set, with emphasis on the bass drum, snare drum, cymbals and tom-toms. Marsalis also moves comfortably toward a neoclassical style, as in "The Fiddler's March" that lurches asymmetrical with a swagger born equally of bone-dry Stravinsky and New Orleans second line parades.
A narrator introduces the characters, including our fiddler heroine, Beatrice Connors, who plays in twangy double-stops straight out of Appalachian fiddle traditions. But even her pure musical heart cannot resist the temptations of the devil, a.k.a. Bubba Z. Beals, who promises her millions of fans.
The fiddler achieves the fame and fortune she thought she desired, but she becomes so disillusioned that she gives it all up and travels south in hopes of reclaiming her sound and her soul. She finds her old band and—echoes of The Wizard of Oz here—marches off with the gang to play three dances for "the savior," those dances being the same collection of Tango, Waltz and Ragtime from Stravinsky's original.
In "The Devil's Dance," the nimble fiddler battles for her freedom, overcoming the aggressive competition dominated by cornet and trombone with the gritty sound of Harmon mutes. The Fiddler's Tune takes a spiritual turn at the end through several chorale passages, but the fiddler rejects that path as well. Ultimately she is tricked into drinking another of the devil's potions, and this dark fable about artistic integrity ends with the Bubba Z. Beals as the unrepentant leader of the band, closing out with a sassy number called "The Blues on Top."
Aaron Grad ©2016
About This Program
Approximate length 2:00
The brilliant jazz trumpeter and composer Wynton Marsalis riffed on Stravinsky's iconic work, The Soldier's Tale, in composing, A Fiddler's Tale, which will be performed by SPCO musicians, along with conductor Mischa Santora and narrator Danyon Davis. Through his twin perspective as a leading figure in both the jazz and the classical worlds, Marsalis succeeded in writing a fully modern and American version of a timeless tale of love, war and Faustian bargains.
Please join us for an on-stage post-concert conversation immediately following the concert. Conductor Mischa Santora will host a discussion about Marsalis's Fiddler's Tale with performers Danyon Davis, Steven Copes, Lynn Erickson and Zachary Cohen.
Please note: Wynton Marsalis does not perform on this program.