Claire Chase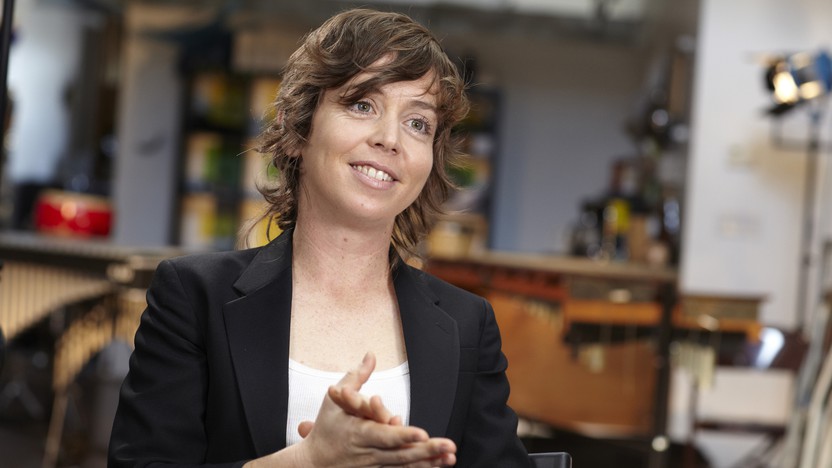 Claire Chase is a soloist, collaborative artist, curator and advocate for new and experimental music. Over the past decade she has given the world premieres of hundreds of new works for the flute in performances throughout the Americas, Europe and Asia, and she has championed new music throughout the world by building organizations, forming alliances, pioneering commissioning initiatives and supporting educational programs that reach new audiences. She was named a MacArthur Fellow in 2012.
Chase has released three celebrated solo albums, Aliento (2010), Terrestre (2012) and Density (2013), and in 2014 launched Density 2036, a 22-year commissioning project to create an entirely new body of repertory for solo flute between 2014 and 2036, the centenary of Edgard Varèse's groundbreaking 1936 flute solo, Density 21.5. She was the 2009 Grand Prize Winner of the Concert Artists Guild International Competition, and made her critically-acclaimed Carnegie Hall recital debut in 2010.
Chase founded the International Contemporary Ensemble (ICE) in 2001, described as the United States' "foremost new-music ensemble" (The New Yorker), where she currently serves as the co-artistic director in addition to playing over fifty concerts a year as an ensemble member. ICE has premiered more than 650 works since its inception and has spearheaded an artist-driven organizational model that earned the ensemble the Trailblazer Award from the American Music Center in 2010 and the Ensemble of the Year Award in 2014 from Musical America Worldwide. In 2015, Chase was honored with the American Composers Forum Champion of New Music Award for her leadership of ICE. The ensemble can be heard in dozens of recordings on the Tzadik, Mode, Naxos, Bridge, New Amsterdam, New Focus, Samadhi Sound and Nonesuch labels, as well as on its own online, streaming video library of live performances, DigitiCE.
In 2014, Chase was named an inaugural Fellow at Project&: Cultural Production with Social Impact. With Project&, she will develop several large-scale new works from 2014-2018 exploring the relationship between language, ritual and music. In 2015, Chase was music director and soloist in Salvatore Sciarrino's Il Cerchio Tagliato dei Suoni for 104 flutes, for which the Los Angeles Times praised her as a "staggering virtuoso with the assurance of a rock star." She will lead several performances in 2016-17 of this immersive 60-minute piece fusing contemporary performance and community engagement.
Upcoming projects include solo tours in Asia, Australia and the Middle East, a residency with the St. Paul Chamber Orchestra, performances of Dai Fujikura's new flute concerto, and the release of a new double-album in collaboration with Meyer Sound Studios in Fall 2016. At home in New York, she will perform at the Brooklyn Academy of Music and Lincoln Center, as well as with ICE in community venues, public spaces, and elementary schools as part of the OpenICE initiative.
Chase grew up in Leucadia, CA with the childhood dream of becoming a professional baseball player before she discovered the flute. She received her B.M. from the Oberlin College Conservatory of Music in the studio of Michel Debost. Her other principal teachers were John Fonville and Damian Bursill-Hall. She currently lives in Brooklyn.