Dashon Burton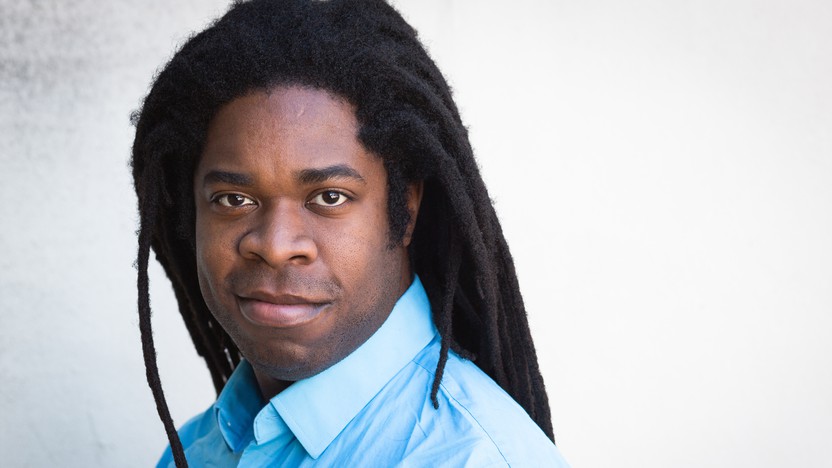 Praised for his "nobility and rich tone," (The New York Times) and his "enormous, thrilling voice seemingly capable ... [of] raising the dead;" (Wall Street Journal), bass-baritone Dashon Burton has appeared in both the Brahms Requiem and Beethoven 9 with Franz Welser-Möst and the Cleveland Orchestra in the last two seasons; re-engagements following his 2014 debut with the Cleveland Orchestra in its groundbreaking production of Janacek's Cunning Little Vixen.
Dashon's orchestra engagements last season include the St. John and St. Matthew Passions (Carmel Bach, Bethlehem Bach, and Baldwin Wallace Bach Festivals), Belshazzar's Feast (Charleston Symphony), Mozart Requiem in returns to Boston's Handel and Haydn Society and the St. Louis Bach Society, Bach's Mass in B minor with the Baltimore Symphony, Brahms Requiem on tour with Seraphic Fire, and Beethoven 9 with the Kansas City Symphony. With the last, Dashon also sang Copland's Old American Songs in an outdoor Symphony in Flint Hills concert. Other forays into interesting repertoire in 2015/16 included performances of Die Winterreise with the Diderot String Quartet and concerts and recording of Craig Hella Johnson's Considering Matthew Shepard with the vocal group Conspirare in Texas. He continues to tour and record with the Grammy-winnning contemporary vocal ensemble Roomful of Teeth, of which Dashon is a founding member.
Burton's Ravinia recital, based on his recent recording Songs of Struggle and Redemption: We Shall Overcome, led off his 2016/17 season, followed by his performance of works by Aperghis and Stockhausen – as well as his own composition, Light Year, – in the 2016 Resonant Bodies Festival at National Sawdust. This season he sings Beethoven 9 in Iowa and Portland (OR), the title role in Elijah at Bowdoin, the St. Matthew Passion in returns to the Bach Choir of Bethlehem and the IVC S'Hertogentbosch in the Netherlands and, with Matthew Halls, the reconstruction of the St. Mark Passion with the Calgary Philharmonic. In Boston Dashon will be heard with A Far Cry in performances of Barber's Dover Beach and Hans Eisler's Ernste Gesaenge, and at Harvard in Michael Tippet's A Child of our Time. In February and March 2017, he returns to Les Talens Lyriques to sing Sarastro in The Magic Flute with Christoph Rousset in Dijon and Paris. Dashon's Messiah performances in December include those with Portland Baroque, The St. Paul Chamber Orchestra, and the Indianapolis Symphony.
Dashon is a frequent guest with Boston's Handel and Haydn Society, where he debuted in their production of Samson in 2014. He has toured Europe in the St. John Passion with Christoph Prégardien's Le Concert de Lorrain and sang the role of Jupiter in Les Talens Lyriques' production of Castor and Pollux with Christoph Rousset in Toulouse. In the key elements of his repertoire -- Bach's St. Matthew and St. John Passions and the B minor Mass; Mendelssohn's Elijah, Handel's Messiah, Beethoven 9, and the Mozart Requiem -- he has sung with Philharmonia Baroque in San Francisco, the Cincinnati and Charlotte Symphonies and the Cincinnati May Festival, Spoleto Festival USA, and I Solisti in Italy; at the Strathmore Center in Washington, D.C. and at Carnegie Hall and Lincoln Center in New York. In the St. Matthew Passion, he has toured Italy with Maasaki Suzuki and the Yale Schola Cantorum and with the NNSO in the Netherlands. At Carnegie, Dashon also sang in Zankel Hall in Arvo Pärt's Passion with Ensemble ACJW.
In 2012, Burton brought home prizes from the ARD International Music Competition in Munich and the 49th International Vocal Competition in 's-Hertogenbosch, Netherlands. These awards followed his First Place wins in both the 2012 Oratorio Society of New York's Competition and the Bach Choir of Bethlehem's Competition for Young American Singers.
He began his professional studies at Case Western Reserve University and graduated from the Oberlin College Conservatory of Music. Upon graduation, he was invited to join Cantus, a professional men's classical vocal ensemble based in Minneapolis, and toured with them for five years. In 2009, Burton entered Yale University's Institute of Sacred Music, where he studied vocal literature including Monteverdi's Vespers of 1610, Bach's St. Matthew Passion, and Mendelssohn's Elijah under tenor James Taylor. He received his Master of Music degree in 2011.