James Ferree
Principal Horn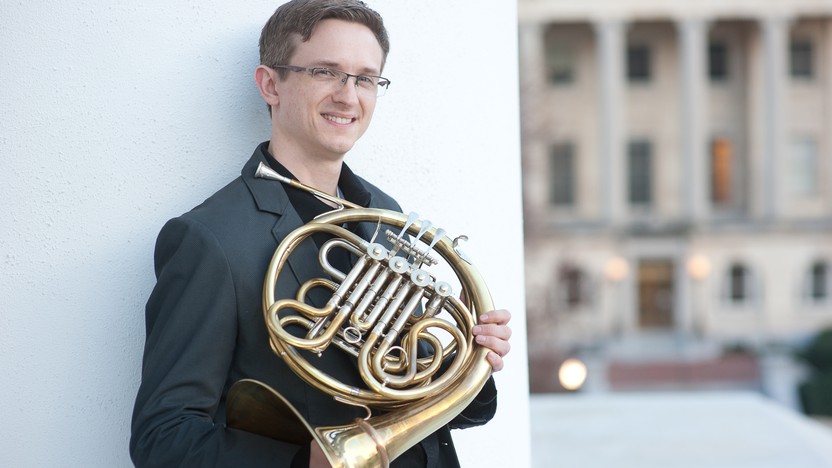 With horn playing described by the Star Tribune as "deliciously mellow," "captivating" and "standout," James Ferree joined The Saint Paul Chamber Orchestra as Principal Horn in 2018.
Previously the Principal Horn of the Richmond Symphony (VA), Ferree has performed as Guest Principal Horn with orchestras across the country such as the New York Philharmonic, the LA Philharmonic, the Vancouver Symphony and Virginia Symphony, including Guest Associate Principal on LA's 2016 NY-European Tour, and has appeared with many other orchestras.
Making his SPCO concerto debut with Wolfgang Amadeus Mozart's Concerto No. 4 in May of 2022, Ferree performed Benjamin Britten's Serenade for Tenor Horn and Strings and Mozart's Sinfonia Concertante for Winds in the Fall of 2022. Ferree's other solo work includes concertos with Music in the Mountains, the Richmond Symphony, New World Symphony, The Juilliard School and others. When he performed Reinhold Glière's Horn Concerto with New World Symphony, the South Florida Classical Review wrote, "The accuracy of James Ferree's playing stood out ... and [Ferree] displayed a mastery of the instrument that allowed him to paint all the moods ... golden sounds."
Ferree is also making waves as a composer-arranger, with the successful premiere in April of 2022 of his chamber orchestra arrangement of Johann Sebastian Bach's Goldberg Variations, commissioned by the SPCO, and the subsequent performances on tour at the Bravo! Vail Music Festival.
An Atlanta native, Ferree began piano studies at age 8. As an 11-year-old choir boy singing with the Atlanta Symphony Orchestra and Robert Shaw, he stood behind the horns and was mesmerized. He began playing horn the following year and soon took lessons with Richard Deane. In 2003, he was the recipient of the Jon Hawkins Memorial Scholarship of the International Horn Society. A timely family move to Germany allowed him to study with horn legend Hermann Baumann, and he was accepted to The Juilliard School with Presidential Distinction to study horn with Jerome Ashby (BM) and William Purvis (MM). After graduation, he joined New World Symphony in Miami under music director Michael Tilson Thomas, followed by his tenure at the Richmond Symphony as Principal Horn.
Ferree was a member of the Verbier Festival in Switzerland for six seasons, performing on their 2014 Germany tour with violinist David Garrett, and has also participated in the festivals of Music in the Mountains, Lakes Area Music Festival, Crested Butte, Tanglewood, Spoleto USA and Music Academy of the West. As a chamber musician, Ferree has performed with the Chamber Music Society of Central Virginia, Atlantic Chamber Ensemble, Richmond Chamber Players, and the Staunton Music Festival. He can also be heard alongside the American Brass Quintet in their 50th Anniversary album.
Ferree is married to conductor Chia-Hsuan Lin. When not performing, he enjoys a good game of baseball or getting outdoors, reading a book over coffee and participating at his church. Since moving to Minnesota, he has developed new hobbies such as shoveling snow, running a snowblower and reciting key phrases like, "the weather isn't usually like this."