Peter Serkin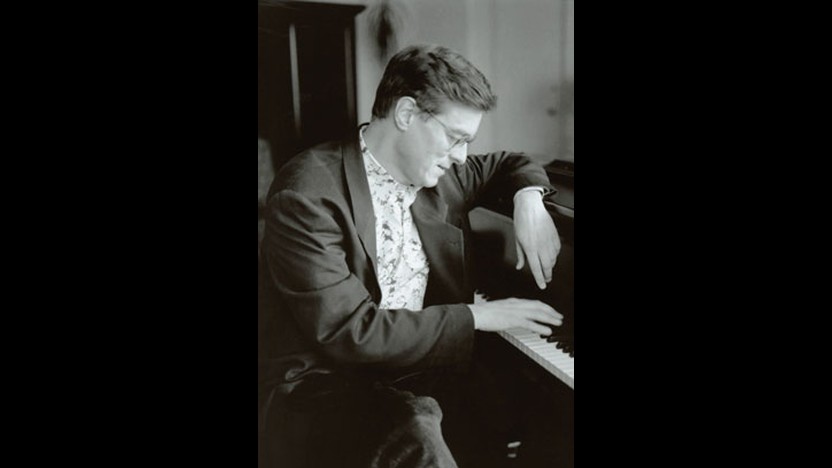 Recognized as an artist of passion and integrity, the distinguished American pianist Peter Serkin is one of the most thoughtful and individualistic musicians appearing before the public today. Throughout his career he has successfully conveyed the essence of five centuries of repertoire and his performances with symphony orchestras, recital appearances, chamber music collaborations and recordings are respected worldwide.
Peter Serkin's rich musical heritage extends back several generations: his grandfather was violinist and composer Adolf Busch and his father pianist Rudolf Serkin. In 1958, at age eleven, he entered the Curtis Institute of Music in Philadelphia where he was a student of Lee Luvisi, Mieczyslaw Horszowski and Rudolf Serkin. He later continued his studies with Ernst Oster, Marcel Moyse and Karl Ulrich Schnabel. In 1959 Mr. Serkin made his Marlboro Music Festival and New York City debuts with conductor Alexander Schneider and invitations to perform with the Cleveland Orchestra and George Szell in Cleveland and Carnegie Hall and with the Philadelphia Orchestra and Eugene Ormandy in Philadelphia and Carnegie Hall soon followed. He has since performed with the world's major symphony orchestras with such eminent conductors as Seiji Ozawa, Pierre Boulez, Daniel Barenboim, Claudio Abbado, Simon Rattle, James Levine, Herbert Blomstedt and Christoph Eschenbach. Also a dedicated chamber musician, Mr. Serkin has collaborated with Alexander Schneider, Pamela Frank, Yo-Yo Ma, and the Budapest, Guarneri and Orion string quartets and TASHI, of which he was a founding member.
An avid proponent of the music of many of the 20th and 21st century's most important composers, Mr. Serkin has been instrumental in bringing the music of Schoenberg, Webern, Berg, Stravinsky, Wolpe, Messiaen, Takemitsu, Henze, Berio, Wuorinen, Goehr, Knussen and Lieberson, among others, to audiences around the world. He has performed many important world premieres, in particular, works by Toru Takemitsu, Peter Lieberson, Oliver Knussen and Alexander Goehr, all of which were written for him. Most recently, Mr. Serkin played the world premieres of Charles Wuorinen's Piano Concerto No. 4 with the Boston Symphony/James Levine in Boston, at Carnegie Hall and at Tanglewood as well as a fifth piano concerto by Mr. Wuorinen with the Met Opera Orchestra/Levine, also at Carnegie Hall; a solo work by Elliot Carter commissioned by Carnegie Hall and the Gilmore International Keyboard Festival; and Mr. Wuorinen's new piano quintet (commissioned by the Rockport, MA Music Festival) with the Brentano String Quartet.
Highlights of Peter Serkin's recent and upcoming U.S. appearances include performances with the New York and Los Angeles Philharmonics, Philadelphia and Minnesota Orchestras, and the Boston, Chicago, National, Detroit, St. Louis, Toronto, Cincinnati and Atlanta symphonies; recitals in Carnegie Hall, the Kennedy Center, Orchestra Hall in Chicago and New York's 92nd Street Y; and summer festival appearances at Ravinia, Aspen, Ojai, Caramoor, Tanglewood, Blossom, Mostly Mozart, Saratoga and the Mann Center with the Philadelphia Orchestra.
Internationally, in August and September of 2011, Mr. Serkin is the featured soloist at the Saito Kinen Festival in Matsumoto, Japan where he appears with both of the festival's orchestras led by Seiji Ozawa and Diego Matheuz and then tours China with the festival orchestras. He also plays recitals in Matsumoto, Tokyo, Shanghai and Beijing. His recent and upcoming engagements in Europe include appearances with the Vienna and Berlin Philharmonics, Deutsches Symphony Orchestra, Danish Radio Orchestra and the Bamberg Symphony.
Peter Serkin's recordings also reflect his distinctive musical vision. The Ocean that has no West and no East, released by Koch Records in 2000, features compositions by Webern, Wolpe, Messiaen, Takemitsu, Knussen, Lieberson and Wuorinen. That same year BMG released his recording of three Beethoven sonatas. Additional recordings include the Brahms violin sonatas with Pamela Frank, Dvorak's Piano Quintet with the Orion String Quartet, quintets by Henze and Brahms with the Guarneri String Quartet, the Bach double and triple concerti with Andras Schiff and Bruno Canino and Takemitsu's Quotation of a Dream with Oliver Knussen and the London Sinfonietta. His most recent recording is the complete works for solo piano by Arnold Schoenberg for Arcana.
Mr. Serkin's recording of the six Mozart concerti composed in 1784 with Alexander Schneider and the English Chamber Orchestra was nominated for a Grammy and received the prestigious Deutsche Schallplatten as well as "Best Recording of the Year" by Stereo Review magazine. Other Grammy nominated recordings include Olivier Messiaen's Vingt Regards sur l'Enfant Jesus and Quartet for the End of Time on BMG and a solo recording of works by Stravinsky, Wolpe and Lieberson for New World Records.
Mr. Serkin is represented by Kirshbaum Demler & Associates, Inc. located at 711 West End Avenue, Suite 5KN, New York, NY. He is a Steinway Artist and has recorded for Arcana, Boston Records, Bridge, Decca, ECM, Koch Classics, New World Records, RCA/BMG, Telarc and Vanguard Classics.
Mr. Serkin currently teaches at Bard College Conservatory of Music and the Longy School of Music. He resides in Massachusetts with his wife, Regina, and is the father of five children.