Rob Kapilow
SPCO Artistic Partner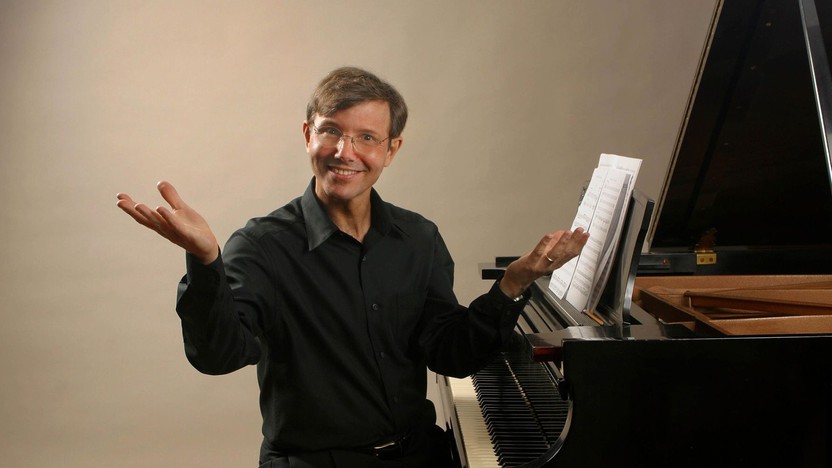 For over 30 years, Rob Kapilow has brought the joy and wonder of classical music – and unraveled some of its mysteries – to audiences of all ages and backgrounds. Characterized by his unique ability to create an "aha" moment for his audiences and collaborators, whatever their level of musical sophistication or naiveté, Kapilow's work brings music into people's lives: opening new ears to musical experiences and helping people to listen actively rather than just hear.
Kapilow's range of activities is astonishingly broad, including his What Makes It Great?®presentations (now for over 20 seasons in New York and Boston), his family compositions and Family Musik® events, his Citypieces, corporate programs, and residencies with institutions as diverse as the National Gallery of Canada and Stanford University. The reach of his interactive events and activities is wide, from Native American tribal communities in Montana and inner-city high school students in Louisiana to audiences in Kyoto and Kuala Lumpur, and from tots barely out of diapers to musicologists in Ivy League programs.
As the music world largely shifted to the virtual arena due to Covid, Mr. Kapilow recorded a new, three-part, socially-distanced series of "What Makes it Great?" programs entitled "Beethoven, the Pandemic and the Power of Connection" filmed in New York City's Merkin Hall for the Kaufman Music Center. He created Livestream programs for the Caramoor Festival as well as Stanford Live!; virtual lectures for CEO's in Istanbul and Dubai, and therapists at the Evolution of Psychotherapy Conference; two virtual book-club events for the Celebrity Series of Boston; and taught a 7-week online course, "Inside the Great American Songbook from Gershwin to Sondheim" for the Thurnauer School of Music of the Kaplan JCC of the Palisades, then reworked the course for Kaufman Music Center in New York adding a new, live-streamed program on the music of Stephen Sondheim as well.
A summer 2021 highlight was a collaboration with the innovative dance group Pilobolus in which Mr. Kapilow helped curate and perform, as well as compose a new choral work based on a Rumi text, for their remarkable, live, car-safari-experience-in-the-woods at their Five Senses Festival in Washington Connecticut. In addition to the Rumi choral composition, Mr. Kapilow also worked intensively on his new, large-scale choral/orchestral composition, We Came to America, based on inter-generational immigrant stories (premiere scheduled for March 2024), and previewed parts of the work on a special 2-hour evening on WWFM radio combining demonstrations and discussions of the new work along with analyses of music ranging from Beethoven's Fifth Symphony to Harold Arlen's "Over the Rainbow."
In June 2020, Mr. Kapilow signed a new, two-book contract with Norton/Liveright, and he is currently hard at work doing research for both books, the first on the music of the Woodstock Generation.
Kapilow has appeared on NBC's Today Show with Katie Couric; he presented a special What Makes It Great?® for broadcast on PBS's Live From Lincoln Center; and he was the subject of a full-length PBS documentary as a composer entitled Summer Sun, Winter Moon. His What Makes it Great radio series was broadcast for more than a decade on NPR's Performance Today, and he has written two books published by Wiley/Lincoln Center: All You Have To Do Is Listen, which won the PSP Prose Award for Best Book in Music and the Performing Arts, and What Makes It Great (2011), the first book of its kind to be specially designed for the iPad with embedded musical examples. His newest book, Listening for America: Inside the Great American Songbook from Gershwin to Sondheim, published by Norton/Liveright was a finalist for the Marfield Prize.
Rob Kapilow dedicates his summer months to writing and composing new music. He was the first composer to be granted the rights to set Dr. Seuss' words to music, and his Green Eggs and Ham has been called "the most successful piece written for families this half-century." A CD featuring Nathan Gunn and Isabel Leonard in two more of his popular Family Musik® compositions, Chris van Allsburg's Polar Express and Dr. Seuss's Gertrude McFuzz, was released in 2014, and his new piece for the 25th anniversary of Ottawa Chamberfest based on Louise Bourgeois' spider sculpture, "Maman." received its premiere in August of 2019.
Kapilow's career has been marked by numerous major awards and grants. He won First Place in the Fontainebleau Casadesus Piano Competition and was the second-place winner of the Antal Dorati Conductor's Competition with the Detroit Symphony. He was featured on Chicago Public Radio's Composers In America series and is a recipient of an Exxon Meet-the-Composer grant and numerous ASCAP awards.
Kapilow has conducted many of North America's major orchestras, as well as new works of musical theater, ranging from the Tony Award-winning Nine on Broadway to the premiere of Frida for the opening of the Brooklyn Academy of Music's Next Wave Festival, and premieres of works for the American Repertory Theater. At the age of 19, Kapilow interrupted his academic work at Yale University to study with the legendary Nadia Boulanger. Two years later, after graduating Phi Beta Kappa from Yale, he continued his studies at Eastman School of Music. After graduating from Eastman, he returned to Yale, where he was an assistant professor and conductor of the Yale Symphony Orchestra for six years. He lives in River Vale, NJ, and is a black belt in Shorin-Ryu Karate.