Rob Kapilow
SPCO Artistic Partner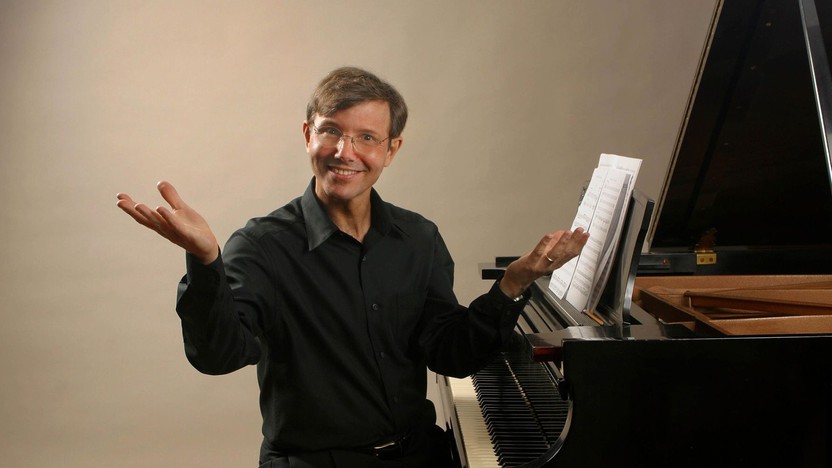 For over 20 years, Rob Kapilow has brought the joy and wonder of classical music – and unraveled some of its mysteries – to audiences of all ages and backgrounds. Characterized by his unique ability to create an "aha" moment for his audiences and collaborators, whatever their level of musical sophistication or naiveté, Kapilow's work brings music into people's lives: opening new ears to musical experiences and helping people to listen actively rather than just hear. As the Boston Globe said, "It's a cheering thought that this kind of missionary enterprise did not pass from this earth with Leonard Bernstein. Rob Kapilow is awfully good at what he does. We need him."
Kapilow's range of activities is astonishingly broad, including his What Makes It Great?® presentations (now for over twenty seasons in New York and Boston), his family compositions and Family Musik® events, his "Citypieces", and residencies with institutions as diverse as the National Gallery of Canada and Stanford University. The reach of his interactive events and activities is wide, both geographically and culturally: from Native American tribal communities in Montana and inner-city high school students in Louisiana to audiences in Kyoto and Kuala Lumpur, and from tots barely out of diapers to musicologists in Ivy League programs, his audiences are diverse and unexpected, but invariably rapt and keen to come back for more.
A frequent guest speaker for museums, business groups, foundations, hospitals, law schools, math departments and conferences, Rob Kapilow is constantly finding connections and intersections between music and the outside world, making art essential to everyday life. The 2017-18 season saw Kapilow creating corporate programs for a wide spectrum of groups including the Evolution of Psychotherapy conference in Anaheim, the CEO for a Day program in Istanbul with the Istanbul State Symphony, an Orchestrating Your Board event for CEO's and Board Chairs with the Edmonton Symphony, and the Peter Lougheed Leadership College in Edmonton.
Kapilow's popularity and appeal are reflected in notable invitations and achievements: he appeared on NBC's Today Show in conversation with Katie Couric; he presented a special What Makes It Great?® event for broadcast on PBS's Live From Lincoln Center; and he has written two highly popular books published by Wiley/Lincoln Center: All You Have To Do Is Listen which won the PSP Prose Award for Best Book in Music and the Performing Arts, and What Makes It Great? (2011), the first book of its kind to be especially designed for the iPad with embedded musical examples. He is currently working on a new book for Norton/Liveright on music from the American Songbook entitled Listening for America to be published in the fall of 2019.
A documentary film, named Summer Sun, Winter Moon after Kapilow's choral/symphonic work of the same name, which traces the process of that work's composition from its conception through to its premiere, has been broadcast hundreds of times on Public Television since 2009 and several short segments for PBS NewsHour appeared throughout the 2017-18 season. Kapilow was also a featured talking head in the documentary film, Dreaming of a Jewish Christmas released in December of 2017.
Rob Kapilow dedicates his summer months to writing and composing new music, most recently a large-scale work commissioned by the Marin Symphony to celebrate the 50th Anniversary of the Golden Gate Bridge, which was premiered to great acclaim in May 2012 and a string orchestra piece for the San Domenico Virtuoso Strings which premiered in 2014. He is currently composing a work for the 25th anniversary of Ottawa Chamberfest based on Louise Bourgeois' spider sculpture, "Maman."