Tyshawn Sorey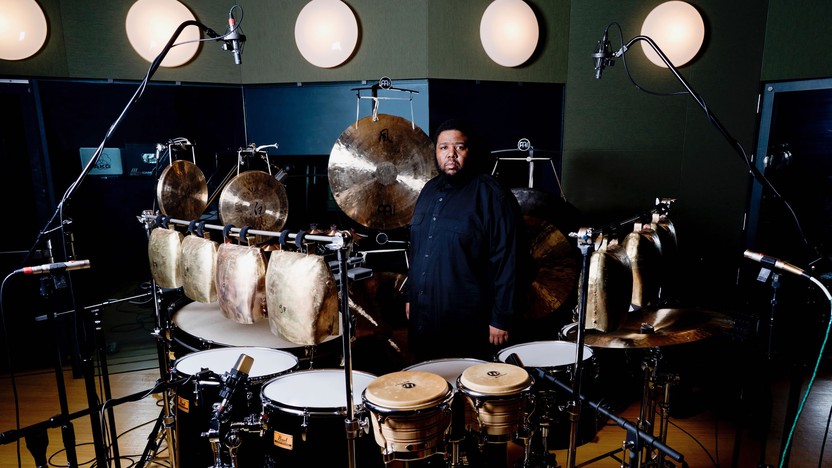 Newark-born multi-instrumentalist and composer Tyshawn Sorey (b. 1980) is celebrated for his incomparable virtuosity, effortless mastery and memorization of highly complex scores, and an extraordinary ability to blend composition and improvisation in his work. He has performed nationally and internationally with his own ensembles, as well as artists such as John Zorn, Vijay Iyer, Roscoe Mitchell, Muhal Richard Abrams, Wadada Leo Smith, Marilyn Crispell, George Lewis, Claire Chase, Steve Coleman, Steve Lehman, Robyn Schulkowsky, Evan Parker, Anthony Braxton, and Myra Melford, among many others.
The New York Times has praised Sorey for his instrumental facility and aplomb, "he plays not only with gale-force physicality, but also a sense of scale and equipoise"; The Wall Street Journal notes Sorey is, "a composer of radical and seemingly boundless ideas." The New Yorker recently noted that Sorey is "among the most formidable denizens of the in-between zone…An extraordinary talent who can see across the entire musical landscape."
Sorey has received support for his creative projects from The Jerome Foundation, The Shifting Foundation, and Van Lier Fellowship. The Spektral Quartet, Ojai Music Festival, and International Contemporary Ensemble (ICE) have commissioned his works, which exemplify a penchant for a thorough exploration of the intersection between improvisation and composition. Sorey also collaborates regularly with ICE as a percussionist and resident composer. Future commissions include a residency at the Berlin Jazz Festival and Carnegie Hall's 125 Commissions Project in partnership with Opera Philadelphia supporting a new work for tenor Lawrence Brownlee addressing themes associated with Black Lives Matter.​
As a leader, Sorey has released six critically acclaimed recordings that feature his work as a composer, multi-instrumentalist and conceptualist including his latest Verisimilitude (Pi Recordings, 2017), among many others.
In 2012, he was selected as one of nine composers for the Other Minds Festival, where he exchanged ideas with such like-minded peers as Ikue Mori, Ken Ueno, and Harold Budd. In 2013, Jazz Danmark invited him to serve as the Danish International Visiting Artist. He was a 2015 recipient of the Doris Duke Impact Award. Sorey has taught and lectured on composition and improvisation at Columbia University, The New School, The Banff Centre, Wesleyan University, International Realtime Music Symposium, Hochschule für Musik Köln, Berklee College of Music, Massachusetts Museum of Contemporary Art, and The Danish Rhythmic Conservatory. His work has been premiered at Lincoln Center's Mostly Mozart Festival, Ojai Music Festival, The Kitchen, Walt Disney Hall, Roulette, Issue Project Room, and the Stone, among many other established venues and festivals.
Sorey recently received his Doctor of Musical Arts degree from Columbia University. In Fall 2017, he assumed the role of Assistant Professor of Composition and Creative Musics at Wesleyan University, where he received his Masters degree in Composition in 2011.