Happy Hour Concert: Beethoven and French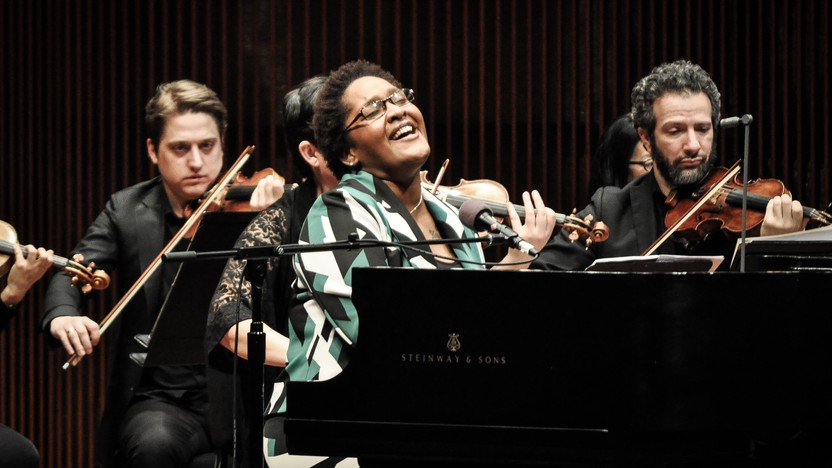 Toggle open/close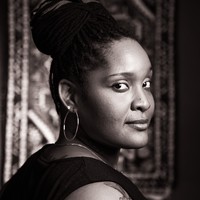 Watch Video
PaviElle French
Sands of Time (World Premiere, SPCO Commission)
Commissioned for the SPCO by community supporters Bill and Susan Sands in collaboration with the American Composers Forum.
Born into a musical family in the historically Black neighborhood of Rondo in Saint Paul, PaviElle French has brought her lifelong influences from '70s soul and R&B into her wide-ranging and powerful work as a singer, songwriter, poet and theater artist. After she approached The Saint Paul Chamber Orchestra for a possible collaboration, she embarked on her first foray into concert music in 2018 with A Requiem for Zula, an orchestral song cycle that honored her late mother.
When SPCO supporters Bill and Susan Sands decided to commission a new work for the orchestra in honor of their fiftieth anniversary, they entrusted French with the assignment and encouraged her to respond to the commission in any way that was meaningful for her. French worked on the resulting score, The Sands of Time, in a world before the Covid pandemic, and before the murder of George Floyd, events that have only deepened her resolve to use her music in service of human connection and justice. As in her first piece for orchestra, French collaborated with the arranger Michi Wiancko, but after steeping herself in the principles of orchestration and the ranges of concert instruments, French took on the responsibility of distributing her music into the orchestral parts herself, using her keyboard to record layer upon layer in Apple's GarageBand software.
Through meetings where she got to know Bill and Susan Sands, French was inspired to have her first movement deal most directly with romantic love. From the beginning of this song that shares its punning title with the cycle as a whole, "Sands of Time," French speaks to us, the audience, as a knowing guide: "I've been thinking, y'all," she sings, "about what love has taught me this far."
The second song, "Give Me Your Love," pivots to an interrogation of what disrupts love — a sentiment inspired specifically by the former president. "Your finite words of hurt and hatred won't pollute my mind or change my hope for unification," she sings. As an orchestral interlude takes flight, she invites us along, shouting, "Hold on y'all! Change is coming!"
In an interview, French spoke about how, in the years since the deaths of her parents, she has been on a journey "to love myself and to like myself, and to understand why I am the way I am, and be investigative and introspective, and to unlock core memories and fully love my whole, total being." She articulates aspects of this brave emotional work in the third song, "Breaking Free," where she sings, "It's overwhelming to have to look so deep inside. I wanna break free from my iniquity."
The next selections explore other facets of love that animate French's life and music: "the love for my freedom of thought and freedom of speech, and the persistence of life. I was thinking about all the ways that love works, whether it is platonic or romantic or agape." The sense of freedom comes through in the fifth song, "Me Being Me (Is Revolutionary)." A celebratory song, "The Dance of Life," encourages us all to "be ambitious and assertive in the dance of life. There's no room for any fear with an aura that's so bright." After an instrumental dance interlude, the cycle closes with a reprise of "Sands of Time," bringing this journey of love back to its interpersonal point of origin.
French spoke about how much she learned from her mother, an educator and community activist, and her father, whom she described as "more hotheaded and political" and deeply involved in community action. As she sees it, "People can hear the truth if you can give it to them in a way that they can hear it. The way I approach music is that I am going to make it so beautiful and so lush and so honest and vulnerable and authentic that you have to hear it."
Aaron Grad ©2022
Toggle open/close
Ludwig van Beethoven's first two symphonies took their cues from Franz Joseph Haydn, the formidable "father of the symphony" and Beethoven's teacher for a short while after he moved to Vienna. Soon enough, Beethoven honed a symphonic voice that eclipsed even Haydn's in its scale and grandeur, beginning with the massive Symphony No. 3 (Eroica) from 1803 and continuing in the fateful Symphony No. 5 from 1808. Sandwiched between those landmark symphonies was a smaller specimen, the Symphony No. 4 in B-flat Major, underscoring Beethoven's lasting debt to Haydn.
Beethoven composed the Fourth Symphony in mid-1806, and he first unveiled it at a private concert in March 1807. Close followers of Haydn's London symphonies might have noted Beethoven's nod to the Symphony No. 102, which likewise begins with a held B-flat in octaves. Whereas Haydn made a subtle detour to B-flat minor in his introduction, Beethoven fully embraced the move to the minor scale, until the harmonies sneak back to the major key via one of the score's many slippery and surprising transitions, launching the Allegro vivace body of the movement.
The Adagio begins with an introductory figure that seems to have lingered from the end of the first movement, preparing the way for a sweet, singing melody. The third movement was labeled a Minuet, but the quick and boisterous music is really a scherzo in all but name, representing Beethoven's faster and wilder take on Haydn's dancing diversions.
Beethoven's finale is full of Haydn's impish wit, and it saves the best punch line for the end, when the violins, as if thoroughly exhausted, slowly trudge through the main theme one last time. After a similarly lethargic response from the bassoons and then the cellos and basses, the group rallies to end the symphony with an energetic flourish.
Aaron Grad ©2022
About This Program
Approximate length 1:00
Join us for a special pre-concert happy hour with food trucks and drink specials, then bring your drinks into the Ordway Concert Hall for a one-hour performance. Two works by composers written two centuries apart conclude our 2021.22 season. Join the SPCO with local guest composer, singer and keyboardist PaviElle French for the world premiere of a work that celebrates musical manifestations of love in all its forms, rescheduled from the 2020.21 season. PaviElle French brings members of her band to the Ordway stage for her second collaboration with the SPCO, commissioned for the SPCO by community supporters Bill and Susan Sands in collaboration with the American Composers Forum. Ludwig van Beethoven's Fourth Symphony follows — a piece often overshadowed by his third and fifth symphonies, evoking the spirit of Franz Joseph Haydn and bringing this unprecedented season of change to a close.
Happy Hour is from 4pm–6pm. Food Trucks will be on-site at 4pm.
This activity is supported, in part, by the City of Saint Paul Cultural Sales Tax Revitalization Program and Ernst & Young.
Masks will not be required, but will be welcomed and encouraged. Proof of vaccination, booster or a negative COVID-19 test result will no longer be required. More Information
Concerts are currently limited to 50% capacity to allow for distancing. Tickets are available by price scale, and specific seats will be assigned and delivered a couple of weeks prior to each concert — including Print At Home tickets. Please email us at tickets@spcomail.org if you have any seating preferences or accessibility needs. Seating and price scale charts for the Ordway Concert Hall can be found at thespco.org/venues.