Jonathan Biss Plays Beethoven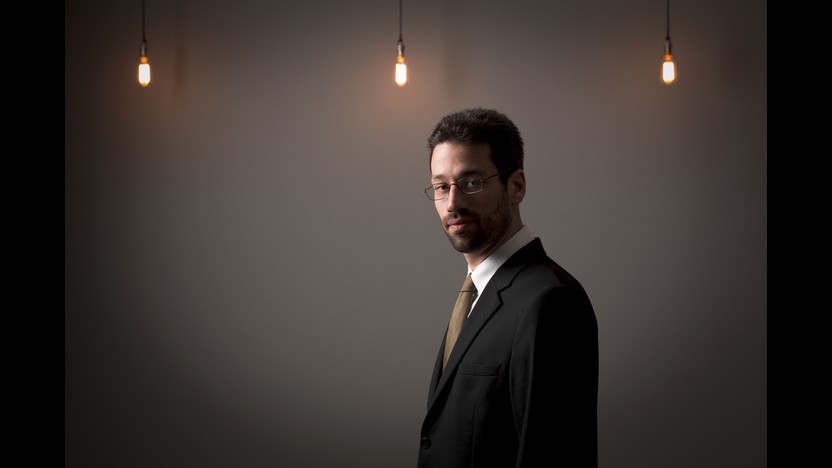 Sponsored By
November 28, 2015
Toggle open/close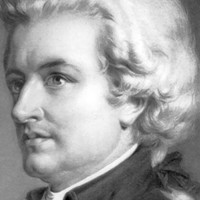 Wolfgang Amadeus Mozart
Quintet in E-flat for Piano and Winds
Mozart completed the Quintet for Piano and Winds on March 30, 1784, just eight days after finishing the Piano Concerto No. 16 in D Major, and two days before the "Grand Academy" concert that likely featured the premieres of both works. Chamber music was a rarity on such programs, which usually featured bigger symphonies and concertos along with keyboard improvisations. But the new quintet was unlike any of Mozart's preceding chamber music, and much closer in spirit to his recent piano concertos, especially the preceding example in D major, with its highly active woodwind section. He was certainly pleased with the novel sound of the quintet, writing to his father, "I myself consider it to be the best thing I have written in my life." A dozen years later, Beethoven paid tribute with his own quintet for the same ensemble, and many others have followed suit, ranging from Nikolai Rimsky-Korsakov (who swapped the oboe for a flute) to Elliott Carter.
One bit of mystery that surrounds the quintet is its ending. The autograph score was not among Mozart's papers at his death, and his widow, Constanze, gave conflicting stories as to its whereabouts, first citing a dubious exchange between her husband and a Polish Count, and then pointing to a Hungarian amateur cellist who studied for a time with Mozart and who later befriended Beethoven. (The story of the cellist might explain how Beethoven came to write such a close analog to a work that at the time was neither published in its original scoring nor actively performed.) The autograph, once it was located, turned out to contain two endings, both appearing to be in Mozart's hand. It took many decades to determine that Mozart only wrote one ending, and that an inferior four-measure conclusion was actually a forgery of his handwriting and the basis for an unauthorized publication rearranged for piano and string trio in 1794.
With all the intrigue surrounding its origins, some skeptics dismiss the entire work as a fake. The most convincing argument for the quintet's authenticity is the music itself, brimming with Mozart's typical verve and drama. His excitement about the work may have owed much to the melodic freedom inherent in an ensemble that he treated ostensibly as five soloists. The pianist has an omnipresent role in the quintet, shifting from star to cheerleader and back again constantly. In the Larghetto slow movement, lovely woodwind solos intertwine as if they are characters in a wordless opera. The concluding rondo has the type of lively exchanges that would be at home in a concerto finale, but the piano democratically shares the spotlight, even supporting the winds in a written-out cadenza.
Aaron Grad ©2015
Toggle open/close
Timo Andres
The Blind Banister, Concerto for Piano and Orchestra (World Premiere, SPCO Commission)
There's an interesting process of distancing that happens after I've written a piece; when it's brand new it feels like an extension of my body, but when a few years have passed, it begins to merge with other music I know well—I almost can't remember having written it myself. I'm fascinated by composers who feel compelled to revise their work years, or decades, after the fact. Ives did this constantly, returning to add layers of complexity in sedimentary fashion; the two versions of Brahms' Opus 8 trio encapsulate the difference between promising novice and master.
Beethoven gave his early second piano concerto ("not one of my best", in his own estimation) a kind of renovation in the form of a new cadenza, 20 years down the line (around the time he was working on the Emperor concerto). It's wonderfully jarring in that he makes no concessions to his earlier style; for a couple of minutes, we're plucked from a world of conventional gestures into a future-world of obsessive fugues and spiraling modulations. Like any good cadenza, it's made from those same simple gestures—an arpeggiated triad, a sequence of downward scales—but uses them as the basis for a miniature fantasia.
My third piano concerto, The Blind Banister, is a whole piece built over this fault line in Beethoven's second, trying to peer into the gap. I tried as much as possible to start with those same extremely simple elements Beethoven uses; however, my piece is not a pastiche or an exercise in palimpsest. It doesn't even directly quote Beethoven. There are some surface similarities to his concerto (a three-movement structure, a B-flat tonal center) but these are mostly red herrings. The best way I can describe my approach to writing the piece is: I started writing my own cadenza to Beethoven's concerto, and ended up devouring it from the inside out.
Solo piano introduces the main theme of the piece—one of those slowly descending scales. It's actually two scales, one the melody and the other (lagging behind) the accompaniment, creating little rubbing major-second suspensions against each other with every move. This idea is later splayed out and reversed in a rising sequence of loping, two-note phrases. This "Sliding Scale" is presented over and over, forming the basis for movement of continuous variations, constantly revising themselves. Orchestral layers pile up around the scale, building dissonant towers out of those major seconds. One last, long downward scale gathers enough momentum to launch the second movement scherzo, "Ringing Weights."
Here, the downward scale is transformed into a propulsive motor in solo strings, driving bright cascades of chromatic chords in the solo part. This movement is also made from varying modules, each increasingly elaborate—though this time, each successive module descends a step, the scale theme subverting the structure of the piece, trying to push it inexorably downwards.
The piano works hard to reverse this process in a trio section, trading a stumbling, step-wise melody with gentle orchestral echoes of the ringing chords from the scherzo. As the piano music lurches to its feet, it grows progressively more boisterous, and the steps move faster, whirling themselves into a return of the scherzo material, this time with full orchestra and pounding timpani.
Orchestra suddenly falls away, leaving the pianist to wrestle with the two basic elements of the piece—rising and falling. Arpeggios leap up and over each other, unbound to any meter, vaulting through the harmonic atmosphere before plunging down to the lowest E. As the arpeggios begin to trace more regular patterns, the orchestra drifts back in with another long scale, descending step by step, introducing a richly-harmonized Coda, really a super-compressed recapitulation of the first movement, the piano finally rushing off into an ambiguous future.
"Like when the light goes out on the stairs and the hand follows—with confidence—the blind banister that finds its way in the darkness." — Tomas Tranströmer, Schubertiana
Timo Andres ©2015
Toggle open/close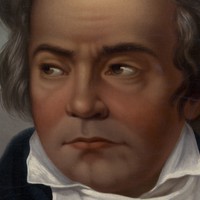 Ludwig van Beethoven
Piano Concerto No. 2
(Duration: 28 min)
When the 21-year-old Ludwig van Beethoven arrived in Vienna in 1792, he was following in the footsteps of his hero Wolfgang Amadeus Mozart, whose death a year earlier left an opening for a hotshot keyboard player that the young Beethoven eagerly filled. In those early years, before his reputation earned him a measure of artistic independence (and before his deafness cut him off from the world), Beethoven hustled for all sorts of paying gigs around town — teaching lessons, performing public and private concerts and writing accessible music that could be published and sold to amateurs. And just as Mozart wowed Vienna with self-produced concerts centered on a stream of new piano concertos, Beethoven took up the concerto as an ideal vehicle for self-promotion.
The earliest piano concerto that Beethoven completed was this one in B-flat, although it became known as No. 2, since the later C-major concerto was published first. Initial sketches of the B-flat concerto date back as far as 1788, when Beethoven was still a teenage viola player in the court orchestra in his hometown of Bonn, and then he reworked it substantially in 1794 to prepare for his first Mozart-style concert the following spring. Beethoven made additional revisions in 1798, and a decade later he wrote out cadenzas, for the benefit of other performers less gifted than he was in the art of improvisation.
Demonstrating just how well Beethoven had internalized the refined craft of Mozart and Franz Joseph Haydn, this concerto's opening measures exhibit textbook contrast and balance between the two offsetting phrases. The first is loud, rhythmically robust, scored for the whole orchestra, and in the home key of B-flat; the second is soft, rhythmically smooth, scored just for strings, and in the contrasting key of F. These motives develop through a high-energy movement of brilliant piano figurations, surprising harmonic shifts, and galloping rhythms. With the insertion of the cadenza that Beethoven added in the heart of his "middle period," stark counterpoint and insistent rhythmic repetitions introduce an extra note of firmness and drama.
The central Adagio, after elaborating a gentle theme, adds its most striking detail at the point when the cadenza would normally appear. Instead of inserting a virtuosic flourish, Beethoven gives the soloist a single melodic line to convey "with great expression," alternating with comments from the orchestra as the movement draws to a close. The Rondo finale especially benefited from the 1798 revision, which transformed the square rhythm of the original main theme to the punchy, syncopated motive we know today.
Aaron Grad ©2023
About This Program
Approximate length 1:34
Jonathan Biss, lauded for his "ability to convey his deep understanding" and power to "give each [Beethoven piano concerto] a distinctive character" (The New York Times), joins the SPCO to perform Beethoven's Piano Concerto No. 2. Biss will also perform Timo Andres' Piano Concerto, the first of a series of co-commissions in a multi-year project that seeks to cast new light on some of Beethoven's most extraordinary works for piano by pairing them with newly commissioned concertos inspired by Beethoven's original masterpieces.
Learn More
Visit the Liquid Music Series website to read an insightful blog post about Timo Andres' influences and composition process.