Mozart's 40th Symphony: What Makes it Great?® with Rob Kapilow
Toggle open/close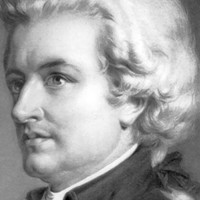 Wolfgang Amadeus Mozart
Symphony No. 40
Wolfgang Amadeus Mozart wrote his three final symphonies in the span of eight weeks during the cash-strapped summer of 1788, when he was reduced to pleading with friends for loans, moving his growing family to the suburbs, and pursuing dead-end leads for his music. Whatever opportunity prompted the symphonies seems not to have panned out, and he probably didn't hear all three before he died. He did revisit the G-minor symphony at some later point to add clarinets and make other adjustments, suggesting that he found an audience for that one at least.
The Symphony No. 40 in G Minor was only the second example that Mozart set in a minor key, and it was a world apart from the Symphony No. 25 that he wrote as a seventeen-year-old. This bigger, bolder, proto-Romantic symphony begins with a peculiar and essential quirk of phrasing that assigns the violas to quiver through one measure of bare accompaniment. When the violins enter a moment later with a theme that sighs three times before leaping up, there is a subtle rub between what our ears hear as the strong beat and the underlying architecture of the phrase. The result is a persistent and restless feeling of propulsion, as if each phrase must scrabble forward to stay ahead of the surge.
The Andante second movement is the only portion of the symphony that moves away from the turbulence of G-minor, and even here patterns of hiccupping rhythms and delayed resolutions recall the stormy first movement. The Menuetto is unusually grave for the portion of a symphony that often serves as a light diversion, with respite only coming in the contrasting trio section. The finale, with its heated dialogue of soft and loud phrases, embodies the passion and drama that Mozart honed on the operatic stage, most recently in Don Giovanni.
Aaron Grad ©2023
About This Program
Approximate length 1:22
Artistic Partner Rob Kapilow returns to the SPCO to lead a deep dive into one of Wolfgang Amadeus Mozart's most beloved symphonies. In the first half of the concert, Kapilow demonstrates the compositional choices and inner workings of the piece in illuminating and engaging ways with special attention to how the SPCO's unconducted approach brings these details to life. This interactive demonstration will be followed by a complete performance of the work on the second half.