SPCO's West Side Series
Beethoven's Seventh Symphony: What Makes it Great?® with Rob Kapilow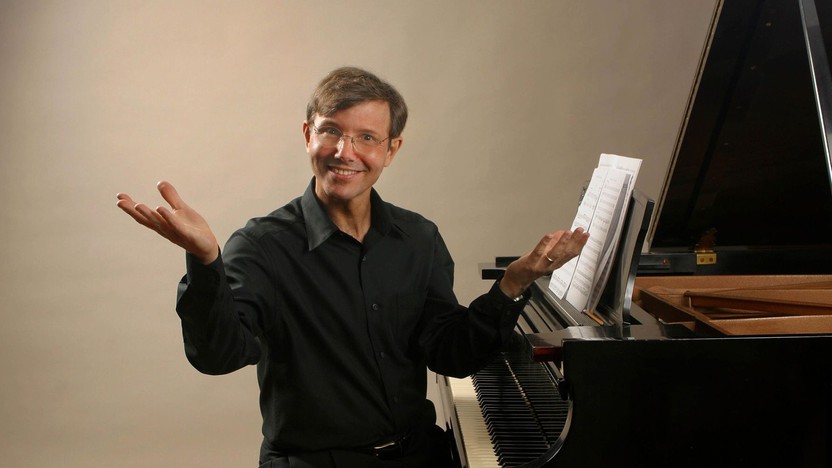 Toggle open/close
It is the emotionally volatile Beethoven who holds the popular imagination in his thrall. The Sturm und Drang Beethoven, Beethoven in C minor (the Pathétique Sonata, the Fifth Symphony). In one of Hollywood's sillier moments, in the film Immortal Beloved, Beethoven-as-played-by-Gary-Oldman explains the ferocity of the Kreutzer Sonata thus: "A man is trying to reach his lover. His carriage has broken down in the rain, the wheels stuck in the mud. She will only wait so long. This is the sound of his agitation." Such faux-biographical nonsense has nothing actually to do with Beethoven, but reveals much about what we as listeners are drawn to in his music.
Witness, too, the cliché about Beethoven's even- vs. odd-numbered symphonies: that the odds—the triumphant Third (Eroica); the Fifth, in which "Fate knocks at the door"; the transcendent Ninth, culminating in the "Ode to Joy"—are the profound ones, as though Nos. 2, 4, 6 (Pastoral), and 8 were mere bagatelles, written on the composer's cigarette breaks from the real work of revolutionizing Western music.
It's arguably in his sunnier, more extroverted moods that we truly encounter the muscularity of Beethoven's language. Which is not at all to discredit the thunderous Fifth. Who could live without it? How deficient the vocabulary of Western civilization would seem without that terrifying four-note knock at the door. And as the symphony builds, how Beethoven methodically lays brick upon brick; as that insistent rhythmic motto powers the work's gripping momentum, the strength of his voice is indisputable.
The Seventh Symphony greets us with music of a starkly different temperament: the opening orchestral tutti, not a threat as in the Fifth, but a buoyant Hello! Happy to see you!—then the oboe, tenderly: My dear, it's been too long. Tutti: Hello! Clarinets, horns, flutes enter in turn, eagerly inviting us in.
This graceful introduction welcomes us into the Seventh Symphony, unhurriedly pours us a cup of tea—and then, once we've been made thoroughly comfortable—Are you sure I can't get you anything else?—finally, we meet the first theme. In place of the fateful door-knock, Beethoven gives us a jubilant tune whose wingspan far eclipses the Fifth Symphony's germinal four-note cell. And now we discover that the Seventh Symphony, unexpectedly, stands toe-to-toe with the Fifth. For it is this music—this long-breathed, effervescent "peasant dance," to quote Hector Berlioz ("ronde de paysans")—whose galloping rhythm catapults the first movement to such great heights. In the Fifth Symphony, a terse shake of the head grows into a furious roar; with the Seventh, Beethoven lets the light into his charming country chateau to reveal a glorious cathedral.
Each of the symphony's four movements is defined by its pulse. The first movement's bright-eyed gallop accelerates to an animated Presto in the third movement, then turns manic in the finale. In each case, the music's rhythmic character is in the foreground, supporting Richard Wagner's description of the Seventh Symphony as the "apotheosis of the dance."
Of course, there's that unsmiling second movement, a powerful utterance and the Seventh Symphony's entrée to the company of the other odd-numbered symphonies. (N.B.: This movement figures into another breathtaking instance of Hollywood's being Hollywood. Search for "Mr. Holland's Opus beethoven 7" on YouTube.) The bright A-major chord that opens the symphony is here transmuted into introspective A minor, scored for winds alone (sans the bright hue of the flute), struck forte, then immediately decaying to pianissimo. The incessant dactyl-spondee pattern (long-short-short, long-long) that emerges from that A-minor exhalation, and persists throughout the movement, suggests a funeral march. But Beethoven's tempo marking is Allegretto: slightly less fast than Allegro, and certainly not the Adagio assai of the Eroica Symphony's marcia funèbre. The word itself, Allegretto (Beethoven could have chosen, say, Andantino), sounds nimble. Even at its most seemingly somber moment, the Seventh Symphony remains fleet of foot. Much as we might wish to assign it an air of solemnity (and, indeed, one often hears it performed this way, at a tragically slow tempo), such gravitas is undue. This Allegretto is simply another side of the dance.
Patrick Castillo ©2014
About This Program
Approximate length 1:20
Composer, commentator and most recent addition to our roster of Artistic Partners, Rob Kapilow is known throughout the music world for his special concert format, What Makes It Great?® "the kind of enlightening musical seminar in which you hang on to every word and note" (The New York Times). Kapilow joins the SPCO for an in-depth exploration of Beethoven's iconic Seventh Symphony and will illuminate both the inner workings of the music and the process by which the SPCO Musicians work together as a conductorless ensemble.
Tonight's SPCO performance at The Church of St. Matthew has been canceled due to late-breaking recommendations from local authorities to limit the spread of coronavirus (COVID-19).
Ticket holders do not need to take any immediate action. Any paid tickets for tonight's concert will be banked in ticket holders' accounts and can be used for future performances. Free tickets are not eligible to be used for future concerts.
The Saint Paul Chamber Orchestra is committed to the health and safety of our audience, our community, our staff and our musicians. We will continue to monitor this rapidly-changing situation and will follow the guidelines laid out by the Minnesota Department of Health, the City of Saint Paul, Ramsey County Public Health and the Centers for Disease Control and Prevention.
In the event of additional concert cancellations all ticket holders will be notified by phone and email. Updates will also be posted on our website.
The origins of What Makes It Great?®
During my freshman year at college, I was fortunate enough to take an inspiring art history course with a wonderful professor named Robert Herbert. Before taking the class, I had enjoyed going to museums, liked certain paintings, didn't like others, but overall hadn't given much thought or attention to why. I knew what I liked, and that was enough.
In addition to classroom lectures, every Friday we would go to the Yale Art Gallery and spend an entire session on a single painting. These sessions were a revelation to me. I realized that I had never really looked closely at a painting. I was astonished week after week to realize how much I had completely missed in paintings that I thought I knew. Each week, prodded by the professor's careful attention, a painting would materialize before my eyes as if for the very first time. The course began to teach me the difference between looking and seeing.
What Makes It Great?® began for me with that course. In some ways music poses even more difficulties than art because it refuses to sit still for us. It happens in real time. And in great music, so much goes by — so quickly — that it requires enormous attention to hear it all. That is what What Makes It Great?® is really about: Listening. Paying attention. Noticing all the fantastic things that might otherwise go by. When you begin to hear the things that make a piece great, it can spring to life as if you have never heard it before.
During each What Makes It Great?® program we take a piece of great music, tear it apart, and put it back together again. We rewrite it, sing it, tap it, clap it: in short, we do everything in our power to get inside to see what makes it tick and what makes it great. Then on the second half of the program we hear the piece performed in its entirety — hopefully with a new pair of ears. If my art history class was about the difference between looking and seeing, What Makes It Great?® is about the difference between hearing and listening.
Watch a PBS interview with Rob Kapilow: "Why 'Over the Rainbow' takes us to a magical, musical place" here.
Or, listen to past What Makes It Great?® programs on NPR here.