SPCO's West Side Series
Beethoven's Seventh Symphony: What Makes it Great?® with Rob Kapilow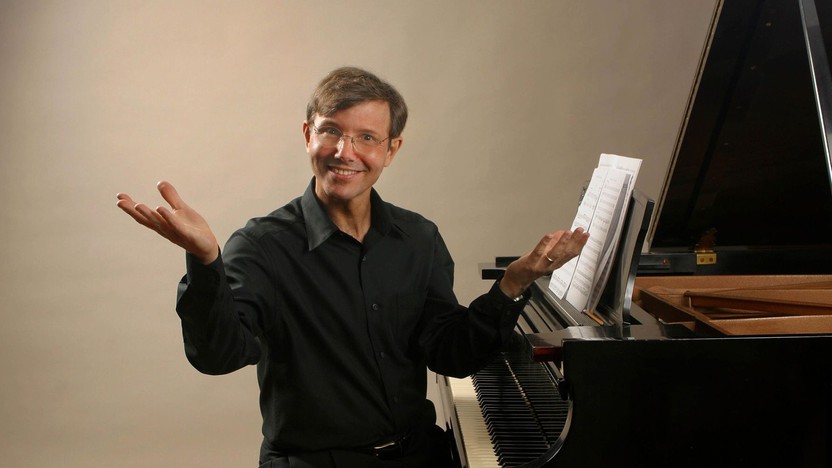 Toggle open/close
In 1811, the ailing Beethoven took his doctor's advice and summered in the Bohemian spa town of Teplitz. The trip succeeded in refreshing Beethoven's health and spirits, and soon he started on a new symphony, his first in three years. He completed the Symphony no. 7 the following spring and began work immediately on his Eighth Symphony. His return visit to Teplitz in 1812 was a more heartbreaking affair: he penned unsent love letters to his mysterious "Immortal Beloved," now believed to be Antonie Brentano, a married woman from Frankfurt. He also had a disappointing introduction to his literary hero, Johann Wolfgang von Goethe, about whom Beethoven complained, "He delights far too much in the court atmosphere, far more than is becoming in a poet."
With the Napoleonic Wars disrupting concert life in Vienna, the Seventh Symphony did not reach the public until the end of 1813. On December 8, Beethoven conducted a benefit concert for wounded soldiers from the Battle of Hanau, featuring the premiere of Wellington's Victory or the Battle of Vitoria, a bombastic orchestral account of the conflict, complete with six trumpets, ten percussionists creating martial sound effects, and triumphant variations on God Save the King. Beethoven's "Battle Symphony" stole the show, but the debut of the Seventh Symphony made an impression, too, with the audience demanding an encore of the Allegretto movement.
The symphony begins with an introduction, the structure favored by Haydn in his late symphonies. Typically this would be a slow introduction, but Beethoven's Poco sostenuto tempo has unusual forward drive, its momentum reinforced by repeated notes and rising scales. The introduction is also of an unprecedented length, lasting nearly four minutes before a single repeated pitch links into the lively Vivace continuation, set in a rollicking triple meter infused with the snap of dotted rhythms.
The second movement again defies the expectation of slow music, appearing as a nimble Allegretto in A minor. It explores a distinctive rhythmic stamp (long, short-short, long, long), advancing a simple theme while expanding the scoring from lower strings to the full orchestra. A contrasting major-key section with broad phrases and pulsing pizzicato intervenes twice, but variants of the opening figure return each time as the heartbeat of the music, even when it is reduced to a skeletal final statement.
The Presto third movement is a scherzo in all but name, Beethoven's supercharged answer to Haydn's minuets. It features cheeky rhythmic play and sudden dynamic contrast, as would be expected from a palate-cleansing third movement; more surprising is the strangely earnest trio section, with winds intoning a hymn-like chorale over droning violins. Instead of the typical three-part structure in which the trio appears once as a central departure, here it enters twice and then echoes again in the movement's coda.
The Allegro con brio finale ushers in more foot-stomping rhythmic drive, pounding hard on the accented off-beats. It is no wonder that Richard Wagner called this symphony "the apotheosis of the dance"—each movement is a celebration of relentless, infectious rhythms.
— © Aaron Grad
Aaron Grad ©2012
About This Program
Approximate length 1:20
Composer, commentator and most recent addition to our roster of Artistic Partners, Rob Kapilow is known throughout the music world for his special concert format, What Makes It Great?® "the kind of enlightening musical seminar in which you hang on to every word and note" (The New York Times). Kapilow joins the SPCO for an in-depth exploration of Beethoven's iconic Seventh Symphony and will illuminate both the inner workings of the music and the process by which the SPCO Musicians work together as a conductorless ensemble.
Tonight's SPCO performance at The Church of St. Matthew has been canceled due to late-breaking recommendations from local authorities to limit the spread of coronavirus (COVID-19).
Ticket holders do not need to take any immediate action. Any paid tickets for tonight's concert will be banked in ticket holders' accounts and can be used for future performances. Free tickets are not eligible to be used for future concerts.
The Saint Paul Chamber Orchestra is committed to the health and safety of our audience, our community, our staff and our musicians. We will continue to monitor this rapidly-changing situation and will follow the guidelines laid out by the Minnesota Department of Health, the City of Saint Paul, Ramsey County Public Health and the Centers for Disease Control and Prevention.
In the event of additional concert cancellations all ticket holders will be notified by phone and email. Updates will also be posted on our website.
The origins of What Makes It Great?®
During my freshman year at college, I was fortunate enough to take an inspiring art history course with a wonderful professor named Robert Herbert. Before taking the class, I had enjoyed going to museums, liked certain paintings, didn't like others, but overall hadn't given much thought or attention to why. I knew what I liked, and that was enough.
In addition to classroom lectures, every Friday we would go to the Yale Art Gallery and spend an entire session on a single painting. These sessions were a revelation to me. I realized that I had never really looked closely at a painting. I was astonished week after week to realize how much I had completely missed in paintings that I thought I knew. Each week, prodded by the professor's careful attention, a painting would materialize before my eyes as if for the very first time. The course began to teach me the difference between looking and seeing.
What Makes It Great?® began for me with that course. In some ways music poses even more difficulties than art because it refuses to sit still for us. It happens in real time. And in great music, so much goes by — so quickly — that it requires enormous attention to hear it all. That is what What Makes It Great?® is really about: Listening. Paying attention. Noticing all the fantastic things that might otherwise go by. When you begin to hear the things that make a piece great, it can spring to life as if you have never heard it before.
During each What Makes It Great?® program we take a piece of great music, tear it apart, and put it back together again. We rewrite it, sing it, tap it, clap it: in short, we do everything in our power to get inside to see what makes it tick and what makes it great. Then on the second half of the program we hear the piece performed in its entirety — hopefully with a new pair of ears. If my art history class was about the difference between looking and seeing, What Makes It Great?® is about the difference between hearing and listening.
Watch a PBS interview with Rob Kapilow: "Why 'Over the Rainbow' takes us to a magical, musical place" here.
Or, listen to past What Makes It Great?® programs on NPR here.