SPCO's West Side Series
Beethoven's Seventh Symphony: What Makes it Great?® with Rob Kapilow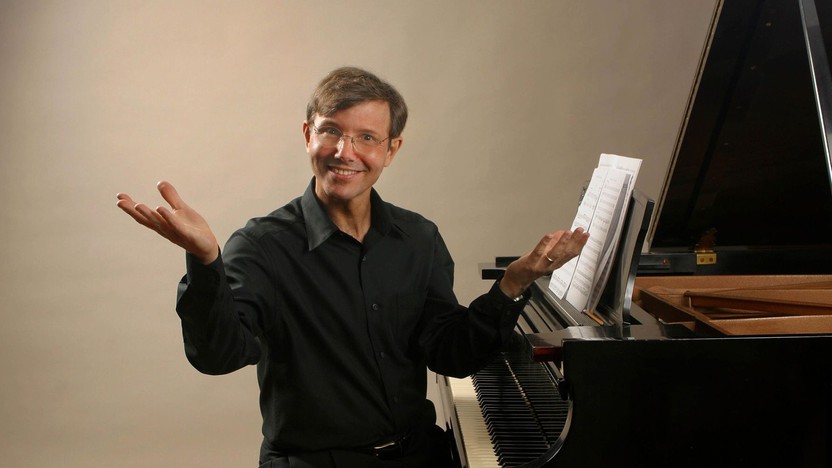 Toggle open/close
Western classical music is frequently tied to politics, as was the case with Ludwig van Beethoven and several of his symphonies. Most noteworthy, perhaps, was Beethoven's dedication of his third symphony to Napoleon, which the composer erased upon learning that Napoleon had declared himself emperor. Beethoven's Symphony No. 7 is also often interpreted as a musical confrontation with Napoleon, whose troops had recently occupied Vienna.
Beethoven composed Symphony No. 7 between 1811 and 1812, at the same time Napoleon was planning his campaign against Russia. The piece was dedicated to Count Moritz von Fries, an Austrian patron of the arts, and the Russian Empress Elisabeth Aleksiev. In December 1813, Beethoven conducted the premiere at the University of Vienna. The event was a charity concert for soldiers wounded in the Battle of Hanau, and Beethoven remarked at the concert's opening that "we are moved by nothing but pure patriotism."
The first movement of Symphony No. 7 begins with a long, slow introduction composed of ascending scales. This introduction transitions to the Vivace section through a series of sixty-one repetitions of the pitch E. Dance-like rhythms permeate the entire symphony, including the first theme of the Vivace section. The last few minutes of the movement feature a coda, which contains a remarkable passage of a two-measure motive that is repeated ten times in a row. This repeated motive occurs at the same time as the other instruments play a four-octave pedal point on the pitch E.
So popular that it was encored at the premiere, the second movement of Symphony No. 7 is often performed today as a stand-alone piece. The movement is in ternary form, or three large sections. The first and third sections are composed of similar thematic material and feature a repeated ostinato pattern of a quarter note, two eighth notes, and two quarter notes. These two sections are in the key of A minor, and Beethoven demonstrates his skill with imitative counterpoint in the third section, which is structured as a fugato. The contrasting middle section in A major contains a warm melody in the clarinets, which is accompanied by triplets in the violins.
A scherzo is a musical joke in which humor is created through compositional devices such as unequal phrase structures, disjunct rhythms, alternating meters and unexpected harmonies. Beethoven employs most of these techniques in the third movement of Symphony No. 7, which is divided into five large sections alternating ABABA. The A sections are rhythmically vigorous and composed of jagged, irregular phrases. The B sections contain quotations of the Austrian pilgrims' hymn.
Symphony No. 7 closes with a movement full of fiery, relentless passion and perpetual motion. The first theme of the movement is a modified version of the instrumental ritornello to Beethoven's own arrangement of the Irish folk song "Save me from the grave and wise." Symphony No. 7 was regarded by Beethoven as one of his best compositions, and a newspaper account of an early performance recalled that the "applause rose to the point of ecstasy."
Paula Maust ©2022
About This Program
Approximate length 1:20
Composer, commentator and most recent addition to our roster of Artistic Partners, Rob Kapilow is known throughout the music world for his special concert format, What Makes It Great?® "the kind of enlightening musical seminar in which you hang on to every word and note" (The New York Times). Kapilow joins the SPCO for an in-depth exploration of Beethoven's iconic Seventh Symphony and will illuminate both the inner workings of the music and the process by which the SPCO Musicians work together as a conductorless ensemble.
Tonight's SPCO performance at The Church of St. Matthew has been canceled due to late-breaking recommendations from local authorities to limit the spread of coronavirus (COVID-19).
Ticket holders do not need to take any immediate action. Any paid tickets for tonight's concert will be banked in ticket holders' accounts and can be used for future performances. Free tickets are not eligible to be used for future concerts.
The Saint Paul Chamber Orchestra is committed to the health and safety of our audience, our community, our staff and our musicians. We will continue to monitor this rapidly-changing situation and will follow the guidelines laid out by the Minnesota Department of Health, the City of Saint Paul, Ramsey County Public Health and the Centers for Disease Control and Prevention.
In the event of additional concert cancellations all ticket holders will be notified by phone and email. Updates will also be posted on our website.
The origins of What Makes It Great?®
During my freshman year at college, I was fortunate enough to take an inspiring art history course with a wonderful professor named Robert Herbert. Before taking the class, I had enjoyed going to museums, liked certain paintings, didn't like others, but overall hadn't given much thought or attention to why. I knew what I liked, and that was enough.
In addition to classroom lectures, every Friday we would go to the Yale Art Gallery and spend an entire session on a single painting. These sessions were a revelation to me. I realized that I had never really looked closely at a painting. I was astonished week after week to realize how much I had completely missed in paintings that I thought I knew. Each week, prodded by the professor's careful attention, a painting would materialize before my eyes as if for the very first time. The course began to teach me the difference between looking and seeing.
What Makes It Great?® began for me with that course. In some ways music poses even more difficulties than art because it refuses to sit still for us. It happens in real time. And in great music, so much goes by — so quickly — that it requires enormous attention to hear it all. That is what What Makes It Great?® is really about: Listening. Paying attention. Noticing all the fantastic things that might otherwise go by. When you begin to hear the things that make a piece great, it can spring to life as if you have never heard it before.
During each What Makes It Great?® program we take a piece of great music, tear it apart, and put it back together again. We rewrite it, sing it, tap it, clap it: in short, we do everything in our power to get inside to see what makes it tick and what makes it great. Then on the second half of the program we hear the piece performed in its entirety — hopefully with a new pair of ears. If my art history class was about the difference between looking and seeing, What Makes It Great?® is about the difference between hearing and listening.
Watch a PBS interview with Rob Kapilow: "Why 'Over the Rainbow' takes us to a magical, musical place" here.
Or, listen to past What Makes It Great?® programs on NPR here.