Beethoven, Foley and Montgomery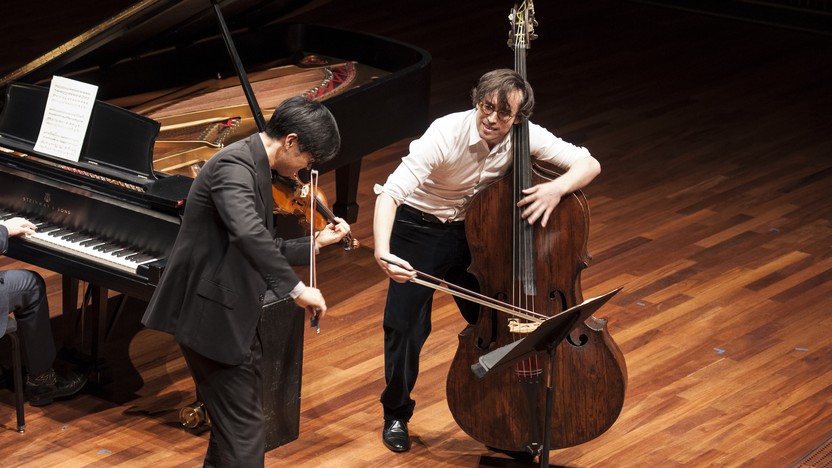 Toggle open/close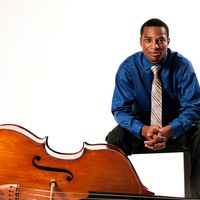 Xavier Foley
Cranberry Juice for Violin and Bass
Written in 2016, Cranberry Juice is one of many solo works written by double bassist and composer Xavier Foley and has been adapted into a duet for violin and double bass. As with many of Foley's works, it blends elements of rhythm and blues, references to Baroque music and stunning virtuosity. After several bluesy exchanges between violin and bass over a repeating bass line, the character shifts dramatically into an expressive violin solo accompanied by intense bass arpeggiation before returning to the opening groove.
Jonathan Posthuma ©2021
Toggle open/close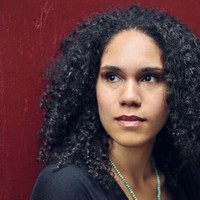 Jessie Montgomery
Shift, Change, Turn (Midwest premiere, SPCO co-commission)
Jessie Montgomery began classical violin lessons at age four, but she learned just as much from the days she spent at her father's rehearsal studio for rock and jazz bands in Manhattan's East Village. Since studying violin performance at The Juilliard School and film scoring at New York University, she established herself as an essential composer, performer and educator within New York's dynamic music scene, including a role as the first-ever Artistic Partner of the Orpheus Chamber Orchestra, which co-commissioned this work. Other commissions from the New York Philharmonic and National Symphony Orchestra (among many, many others) confirm that Montgomery has earned a lasting place in the highest echelon of living composers.
Taking inspiration from another project with Orpheus, her arrangement of Pyotr Ilyich Tchaikovsky's The Seasons, Montgomery saw this commission as "a great opportunity to contribute to the tradition of writing a piece based on seasons, as change and rotation is something that we all experience as humans." She describes the work as "a musical exploration of both the external and internal seasons, which at times seem to be changing along the same axis."
Droning and pulsing harmonies anchor this work's cyclical structure, appearing at the beginning and end, and also between the contrasting episodes. One melodious section at a walking pace introduces a variety of slurs, slides and harmonics, and another portion in a "quick" tempo explores agile woodwinds phrases and multi-layered string textures, all orchestrated with a visceral clarity that speaks to Montgomery's depth of experience performing in virtuoso ensembles.
Aaron Grad ©2019
Toggle open/close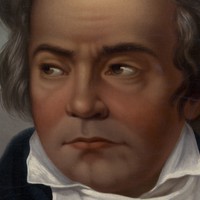 Ludwig van Beethoven
Septet
When the 21-year-old Ludwig van Beethoven arrived in Vienna in 1792, Wolfgang Amadeus Mozart had been dead less than a year, and Franz Joseph Haydn — with whom Beethoven studied briefly — was in his prime. Under their long shadows, Beethoven spent his first years in Vienna mastering the "Classical" style, meanwhile earning a reputation as the city's ranking keyboard virtuoso. If any one day marked his arrival as a composer of note, it must have been April 2, 1800, when he produced his first benefit concert in Vienna. Besides leading an orchestra in a Mozart symphony and excerpts from Haydn's oratorio The Creation, Beethoven performed one of his own piano concertos, and he debuted both the Symphony No. 1 and the Septet in E-flat, which stole the show.
In the spirit of Mozart's serenades, the Septet was a musical confection with no higher aim than to entertain and delight its audience. (Well, it may have had one other aim: Beethoven was trying to gain favor with the work's dedicatee, Empress Maria Theresa.) In later years, Beethoven would back away from the success of his Septet, which remained one of his most popular works in his lifetime and which spawned numerous adaptations, including Beethoven's own reduction for clarinet, cello and piano.
It would be wrong to discount the innovations that flow under the cheerful surface of the Septet, particularly in the novel use of a mixed ensemble of strings and winds. Just as Beethoven's First Symphony attracted attention for emancipating the woodwinds from a supporting role, the Septet assembled the clarinet, bassoon, horn, violin, viola, cello and bass as a band of equals. The clarinet shares melodic duties with the violin, and the omission of a second violin opens sonic space for the accompanying textures of the horn and bassoon. The first movement, in particular, maximizes that coloristic range, setting up contrasts among the elegance of a string trio, the breeziness of a wind trio and the full force of the miniature orchestra. In the slow movement that follows, some of the most sublime moments are those that cut against the instrumental typecasting, as when the bassoon and cello each climb into their upper ranges to deliver poignant lines.
The third movement, a Minuet, reuses a theme from Beethoven's Piano Sonata in G, Op. 49, No. 2 (completed in 1796, its high opus number notwithstanding). For the fourth movement, the theme-and-variations structure invites myriad instrumental combinations, including spare textures for string duo and trio in the first variation and bare duets for clarinet and bassoon in the third.
In the quick Scherzo, the main motive takes its shape from the characteristic intervals of horn calls. The finale, in a bit of a twist, enters with a slow introduction, set in the parallel minor key. The Presto tempo soon brushes away that drama and tension, and the sprint to a buoyant conclusion only halts momentarily for a violin cadenza.
Aaron Grad ©2021
About This Program
Approximate length 1:00
SPCO musicians Kyu-Young Kim and Zachary Cohen open this program with an energetic duet that delights in music as collaboration — an R&B-inspired give and take between the lower pulse of the bass and the upper slides of the violin. Jessie Montgomery's Shift, Change, Turn describes the communal experience that we have all shared over the past year and a half. This Midwest premiere explores both the external and internal changes of the seasons that, at times, occur along the same axis. SPCO musicians bring their unconducted skills to the fore with Ludwig van Beethoven's Septet.
All audience members are required to present proof of full COVID-19 vaccination or a negative COVID-19 test within 72 hours prior to attending this event. Masks are required regardless of vaccination status. More Information
Concerts are currently limited to 50% capacity to allow for distancing. Tickets are available by price scale, and specific seats will be assigned and delivered a couple of weeks prior to each concert — including Print At Home tickets. Please email us at tickets@spcomail.org if you have any seating preferences or accessibility needs. Seating and price scale charts for the Ordway Concert Hall can be found at thespco.org/venues.