SPCO at Lake Harriet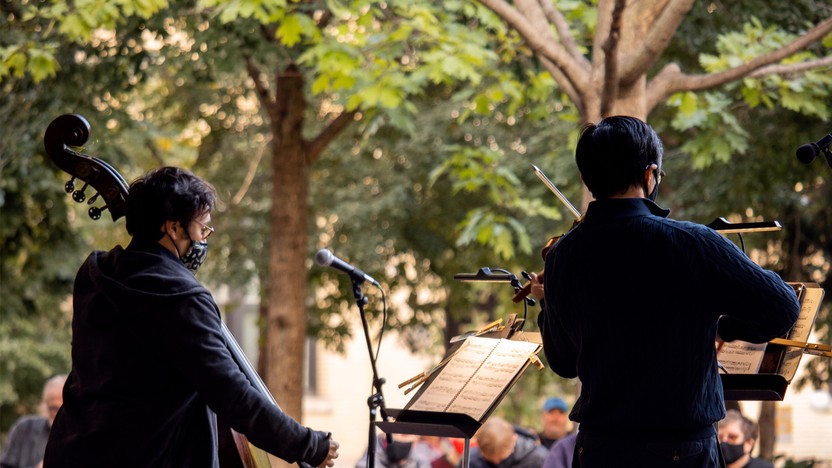 About This Program
Approximate length 1:09
The Saint Paul Chamber Orchestra brings chamber music to the Lake Harriet Bandshell Park. The program opens with Pulitzer Prize winner Caroline Shaw's string quartet Entr'acte, inspired by Joseph Haydn's Second String Quartet, which, in her words, "takes you to the other side of Alice's looking glass, in a kind of absurd, subtle, technicolor transition." SPCO Principal Clarinet Sang Yoon Kim and Principal Bass Zachary Cohen perform a new duo by Clarice Assad. We also share Ludwig van Beethoven's Sextet for Two Horns and Strings, composed during his student years and modeled after Wolfgang Amadeus Mozart. The program concludes with Antonio Vivaldi's Summer violin concerto from his best-known work, The Four Seasons.
There are currently no city or state requirements or recommendations regarding mask use or social distancing outside. We encourage audience members to use personal discretion and to respect the space and choices of those around them. People who are sick or exposed to someone with COVID-19 should stay home.
Bread & Pickle will be open and offering a full menu, along with beer and wine sales. More information can be found at mplsmusicandmovies.com.
Please note: This event is free and open to the public. Tickets are not required for entry, but space is limited so please arrive early. There are a limited number of bench seats available at Lake Harriet, but you may want to bring chairs or a blanket for seating if no bench seating is available.
This concert is presented in collaboration with the Minneapolis Park & Recreation Board