Haydn's Symphony No. 99
Toggle open/close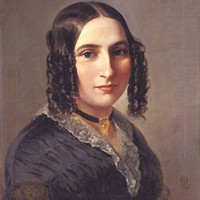 Fanny Mendelssohn-Hensel
Selections from Das Jahr (The Year)(arr. by Ferree)
Julia Bogorad-Kogan
, flute
Alicia McQuerrey
, flute
Cassie Pilgrim
, oboe
Kip Zimmerman
, oboe
Sang Yoon Kim
, clarinet
Rena Kraut
, clarinet
Andrew Brady
, bassoon
Emma Plehal
, bassoon
James Ferree
, horn
Matthew Wilson
, horn
(Duration: 10 min)
When Felix Mendelssohn went abroad with his father to pursue a successful career as a performer and composer, his equally prodigious sister Fanny was left at home. Although the siblings had received the same training in all aspects of music from prestigious teachers up until age 16, Fanny Mendelssohn was confined to a mostly domestic musical life. When she became a wife and mother, she adhered (not without objection) to the expectations of her family and culture. But during a year-long trip to Italy with her husband and advocate, Wilhelm Hensel, Fanny was able to finally receive public admiration for her musicianship, particularly from the composer Charles Gounod, and the trip brought both confidence in her ability and creative energy back into her work.
She described Das Jahr, her piano work with a character piece for each month of the year plus postlude, as a "second diary" from her memorable journey. Johann Sebastian Bach's chorales play a pivotal role in this music, here in the month of "March" (the Lutheran Easter chorale, Christ ist erstanden) and the "Postlude" (the New Year's chorale, Das alte Jahr vergangen ist, plus a reference to the opening line of St. Matthew Passion), as if her experience in Italy strengthened her identity as a Lutheran and champion of the German musical tradition. In "October", the festive music implies horn calls, and she inscribes in the music a poem, "In the forest, the green forest, There is a merry sound."
Given to her husband as a surprise Christmas present, Das Jahr would have surely entertained Hensel's family and guests and given her personal enjoyment as a souvenir from her trip to Italy. But though Hensel was discouraged in her day from writing for larger instrumental forces, I hope to honor the creativity and skill of Hensel in this arrangement, as if Das Jahr were originally written for winds.
James Ferree ©2023
Toggle open/close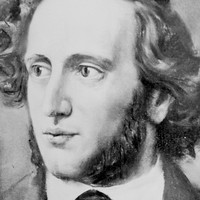 Felix Mendelssohn
String Octet
(Duration: 33 min)
Growing up in a privileged family of bankers in Berlin, Felix Mendelssohn often played chamber music at home with the best young musicians in the city. Piano was his primary instrument, but he could comfortably handle violin and viola parts as well, thanks to his years of study with Eduard Rietz, a prodigy who became the concertmaster of the Berlin court orchestra at 17 and who remained a close ally of Mendelssohn (who was just seven years younger) until the violinist died at the age of 29.
In 1825, the 16-year-old Mendelssohn gave his friend and teacher a most precious birthday present: the String Octet. The German composer Louis Spohr had published a work for two string quartets earlier that year, and Mendelssohn might have been aware of it, but his approach in the Octet was wholly original, treating it as one unified ensemble instead of two opposing groups. The symphonic grandeur of the music is apparent from the outset, with the first violinist rising over a saturated bed of slurred tremolos and pulsing off-beats. It would be easy for this profusion of textures to get messy and clouded, but Mendelssohn's lucid orchestration only intensifies the deft progress through the large sonata form, a structure dispatched with the fluidity of Johann Sebastian Bach and the rigor of Ludwig van Beethoven.
To counter the fiery first movement, the Andante establishes a consoling tone, its sparing themes steeped in old church harmonies and resonant drones. For the lighter-than-air Scherzo, which must be played "always pianissimo and staccato," Mendelssohn found inspiration in a dreamy episode from Johann Wolfgang von Goethe's Faust. Some of that music crops up again in the manic finale, a contrapuntal wonder made possible by the young composer's years of practice in the neglected art of fugue writing.
Aaron Grad ©2023
Intermission
Toggle open/close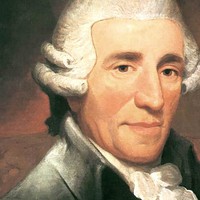 Franz Joseph Haydn
Symphony No. 99
(Duration: 27 min)
After Franz Joseph Haydn's longtime patron Prince Nikolaus Esterházy died in 1790 and his successor disbanded the court orchestra, Haydn was left with a reduced salary and more freedom than he had enjoyed in decades. Seizing the opportunity, a German impresario active in London enticed Haydn to England with a generous contract for the 1791.92 season. Haydn's London residency was a tremendous success, and he arranged a return engagement as soon as he could.
Haydn prepared the Symphony No. 99 during the interval between his London visits, when he attended to some Esterházy business in Vienna and also taught a few lessons to a young Ludwig van Beethoven. Just days after Haydn's return to England, a concert featuring the premiere of the Symphony No. 99 confirmed his sterling reputation, as demonstrated by a review published in The Morning Chronicle: "The incomparable Haydn produced an overture [symphony] of which it is impossible to speak in common terms. It is one of the grandest efforts of art that we ever witnessed. It abounds with ideas, as new in music as they are grand and impressive; it rouses and affects every emotion of the soul."
Symphony No. 99 features all the hallmarks that made Haydn's London symphonies the gold standard for composers in his wake, most especially Ludwig van Beethoven. In the first movement, a slow introduction sets the stage, and the inclusion of clarinets adds a robust tone to a woodwind section that is granted more independence than in earlier symphonies. The Adagio is light and graceful, while the Minuet (an addition to the symphonic form that Haydn helped standardize) has a bit of a rustic character borrowed from the Ländler folk dance of Austria. The lively finale demonstrates Haydn's verve and wit, starting with one of his favorite tricks: The orchestra restrains itself to a quiet dynamic for a long opening stretch, until the first loud arrival lands with maximal impact.
Aaron Grad ©2023
About This Program
Approximate length 1:30
This program features one of Franz Joseph Haydn's famous "London" symphonies, Symphony No. 99, written in anticipation of his second trip to London and the first of three from this collection performed by the SPCO throughout the season. Also included on the program are the beautiful melodies of brother and sister Felix and Fanny Mendelssohn. Felix Mendelssohn's String Octet brings the depth and complexity of a symphony with only eight players, and three movements from Fanny Mendelssohn-Hensel's epic piano cycle, Das Jahr, depict the twelve months of the year, arranged for chamber orchestra by SPCO Principal Horn James Ferree.